Academy uses Facebook to combat fake news
October 17, 2017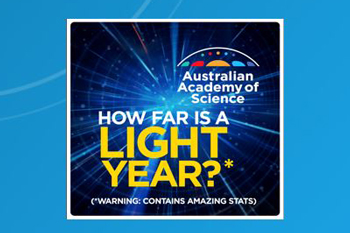 Do baby simulators reduce pregnancies? What can Viking poo reveal about our past? Does the world have enough food? Could a black hole swallow Earth?
These are just some of the everyday questions the Australian Academy of Science will ask (and answer!) as it launches an ambitious new initiative to connect more people with science. Increasingly the public needs a trusted, credible source they can rely on for scientific information to inform their decisions.
Academy President, Professor Andrew Holmes, said no matter your background, age or education level, every person should be able to access and appreciate the wonders of science.
'Science is all around us and we want people to discover that. However, we recognise that often the way science is presented can be hard to understand and somewhat dull—we're about to change that,' Professor Holmes said.
Using the latest digital grammar and a social-first publishing approach, the highest quality Australian and international science will be delivered globally on the Academy's Facebook page. The Academy is the brains trust of science in Australia, meaning the best scientists in the country are ensuring content quality. Chinese speaking audiences will be able to access translated content on social media platforms Weibo and Toutiao.
The ANU's 2017 Australian Beliefs and Attitudes Towards Science survey found just over half the Australian population (54%) reported having a conversation about science most days.
'Through entertaining and informative content we hope to spark many more conversations about science—an engaged public is so important at a time when science is at the centre of so many critical public policy decisions,' Professor Holmes said.
'The rise of 'fake news' has also caught audiences in the middle of a tug-of-war between authenticity and click-bait. We believe credible and verified content has never been more important, to meet a renewed public appetite for scientifically sourced information.'
The Academy is working in partnership with Adam Boland, who reinvented Australian breakfast television and was head of video at NewsDNA (NewsCorp). Boland joins the Academy as Executive Producer of the Academy's video content. Paul Richards, former Supervising Producer at Channel Seven's Sunrise, has also joined the Academy and has thrown his talent and skill behind this project.
Find the new content on the Academy's Facebook page or at www.science.org.au/curious.
Print the flyer for the new project (PDF 1.5mb)