Academy wins national award for science communication
October 31, 2018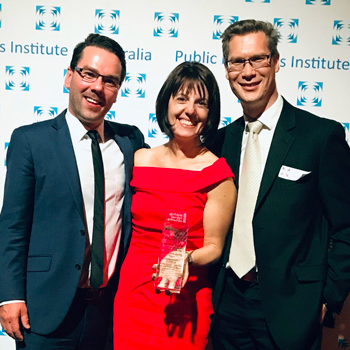 The Australian Academy of Science has won the Public Relations Institute of Australia's (PRIA) Golden Target Award for Not-for-Profit In-House Team of the Year.
The Academy's entry, titled "Science entry Credible Clickbait: Outshouting fake news & supplying factual, entertaining science" was among a number of award winners announced at the PRIA's annual awards dinner in Sydney on 30 October.
The award comes after the Academy celebrated reaching one million likes on its Facebook page earlier this month, from a starting point of 9,000 one year earlier.
Academy Chief Executive, Anna-Maria Arabia, said the award not only recognises the achievements of the Academy's Communications and Outreach team, but also the public's appetite for trusted and credible scientific information.
This is backed up by the University of Canberra's Digital News Report: Australia 2018, which found 65% of Australians are concerned about what's real and what isn't when it comes to online news.
"The Academy is uniquely positioned to draw on the expertise and excellence of its Fellowship, comprising Australia's most distinguished scientists, to inform the scientific information we distribute on social media. This means the Academy's content is a source of accurate, trustworthy and credible science designed to engage audiences far and wide" Ms Arabia said.
"The Academy's impact is global and is one of a select group of organisations to be verified as a trusted education account on China's social media platform, Weibo. Its Chinese language content has been viewed nearly 13 million times."
According to the PRIA, the Golden Target Awards are 'the PR and Communication industry's longest running and most prestigious awards, celebrating the accomplishments of PR and Communication Professionals nationwide'.