ARC Linkage grants awarded to Fellows
July 05, 2019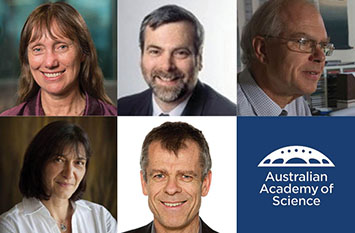 Five Fellows of the Australian Academy of Science are among the recipients of the Australian Research Council's Linkage Projects scheme, announced today by the Hon. Dan Tehan MP, Minister for Education.
The Linkage Projects scheme supports university researchers to find practical solutions to problems and challenges in real-world, industry-based settings.
The funding for research partnerships includes:
$484,189 for Queensland University of Technology to lead a project to revolutionise water-quality monitoring in the information age with automated low-cost sensors and novel statistical methods. The research will be led by Professor Kerrie Mengersen FAA and collaborators.
$442,000 for the Australian National University to research more comprehensive 3D models of the seismic structure of Southwest Australia to enhance assessment of seismic activity and improve understanding of the mineral resource potential. The research will be led by Associate Professor Meghan Miller, Professor Brian Kennett AO FAA FRS and colleagues.
$664,511 for UNSW Sydney to improve productivity in emergency services personnel by evaluating a program that reduces stress reactions and increases cognitive functioning in high-stress work environments. The research will be led by Professor Richard Bryant AC FAA and Associate Professor Samuel Harvey.
$206,100 for Deakin University to research next-generation solid-state batteries to drive an automotive revolution. The project seeks to generate new knowledge in battery materials and design. The research will be led by Associate Professor Patrick Howlett, Professor Maria Forsyth FAA and colleagues.
$612,074 for the University of Melbourne to research high-fidelity, long lasting, single-neuron brain machine interfaces—knowledge that is critically important to the development of technologies that interface electronics with the human body. The research will be led by Professor Steven Prawer FAA and colleagues.
More information about the grants and awardees from previous rounds of funding who are Fellows of the Academy