Aussie researchers extend a helping hand to Ukraine
October 05, 2023
The Australian Academy of Science congratulates the 21 grant recipients from the first round of the Ukraine-Australia Research Fund, announced today.
Just over A$330,000 has been awarded from the fund to assist Ukrainian researchers impacted by the war with Russia. The fund supports two activities, each offering practical support to enable the continuation of research and technology activities by Ukrainian scientists.
Activity 1 – Short-term visits to Australia
This activity supports Ukrainian researchers to participate in short-term visits to Australia to engage in project research at a host institution, or to participate in a conference and site visit program.
Activity 1 has awarded 12 applicants a total of A$210,000, which will support 14 Ukrainian visitors. The Australian hosts, visiting Ukrainians, and their institutions are:
Host institute

Australian host

Visiting researcher

Visitor institute

CSIRO and the Australian Oilseed Federation

Dr John Kirkegaard

Maryna Dzuh

Svitlana Omelchuk

Ukrainian Scientific Institute of Plant Breeding

Flinders University

A/Prof Sergiy Shelyag

Prof Yuriy Rapoport

University of Warmia and Mazury in Olsztyn

Prof Sophie Leterme

Ruslana Mihas

Institute of Marine Biology, the National Academy of Sciences of Ukraine

Monash University

Prof Ulrik Egede

Dr Maryna Borysova

Weizmann Institute of Science

RMIT University

Dr Iryna Heiets

Prof Tamara Oleshko

National Aviation University, Ukraine

University of Queensland

Dr Andrii Kostryzhev

Valentyna Vavrukh

Dr Tetiana Tepla

Lviv Polytechnic National University, Ukraine

Professor Mary Fletcher

Dr Mykola Tupychak

Ivan Franko National University of Lviv

University of Newcastle

Professor Hubert Hondermarck

Dr Nataliya Finiuk

Institute of Cell Biology, National Academy of Sciences of Ukraine

Associate Professor Thomas Honeyands

Oleksii Merkulov

Iron and Steel Institute of ZI Nekrasov, National Academy of Sciences of Ukraine

University of New South Wales Sydney

Dr Elena Atroschenko

Tetiana Horelikova

Zaporizhzhya National University in Ukraine

University of Sydney

Dr Slade Matthews

Dr Anna Shayakhmetova

Institute of Pharmacology and Toxicology of National Academy of Medical Sciences of Ukraine

University of Wollongong

Professor Alexey Pan

Prof Tetiana Prikhna

The Institute of Materials Science of Barcelona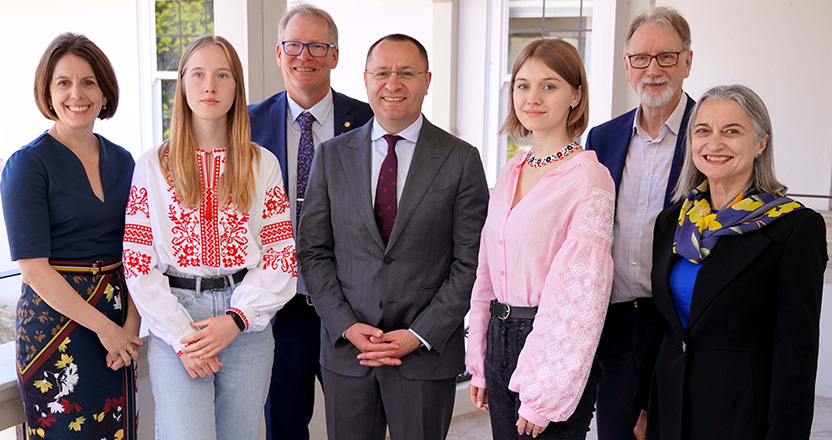 Activity 2 – Facility access
Under this activity, Ukrainian researchers will access leading infrastructure capabilities in Australia, such as supercomputing facilities, microscopy and microanalysis, and telescopes.
Ukrainian researchers will be able to send their samples to facilities for analysis, including those enabled under the National Collaborative Research Infrastructure Strategy (NCRIS), with the results returned to the Ukrainian research institute.
Funding covers the cost of sending samples between Ukraine and the Australian facility, the cost of instrument access, and of testing and analysing the samples. This activity will keep Ukrainian researchers productive and publishing at their own institutes in Ukraine while also engaging in international collaborations.
Activity 2 has seen nine applications to access NCRIS facilities approved. The total amount awarded was just over A$120,000.
The collaborating NCRIS facilities, Ukrainian awardees, and their institutes are:
ANSTO Centre for Accelerator Science

Prof Bogdan Ridush, Yuriy Fedkovych Chernivtsi National University

AuScope GeoHistory Facility Laser Ablation ICPMS

Prof Hennadii Artemenko, MP Semenenko Institute of Geochemistry, Mineralogy and Ore Formation

Centre for Microscopy and Microanalysis, a Microscopy Australia facility

Dr Volodymyr Kulyk, Lviv Polytechnic National University

Radiogenic Isotopes

Dr Vitaliy Sukach, MP Semenenko Institute of Geochemistry, Mineralogy and Ore Formation

National Computational Infrastructure

Dr Misha Khoma, Institute of Electron Physics
Dr Pavlo Fernati, SP Timoshenko Institute of Mechanics, National Academy of Sciences of Ukraine
Prof Vasyl Rizak, Uzhhorod National University

South Australian Node of the Australian National Fabrication Facility

Dr Sergii Khutornoi, Institute of Marine Biology, National Academy of Sciences of Ukraine

Western Australian Argon Isotope Facility

Prof Oleksandr Mytrokhyn, Institute of Geology of Taras Shevchenko National University of Kyiv.
All applications were evaluated by an assessment committee comprised of Academy Fellows and relevant subject matter experts. The final decision on approvals and allocations was made by the Ukraine-Australia Research Fund Working Group, chaired by Academy President Professor Chennupati Jagadish AC PresAA FREng FTSE.
Successful applications from the second round are expected to be announced later this year.
The Academy thanks the not-for-profit Breakthrough Prize Foundation for their funding support of this program, the Australian institutes and researchers hosting Ukrainian visitors, the NCRIS facilities and Directors Group for their ongoing contributions to the program, and the Ukrainian participants.