Australia's home of science to shine brighter than ever
February 06, 2021

This previously published story has been updated to include the timelapse video of the dome's repair
A shiny dome
The home of Australian science, the Shine Dome, will sport a shiny new top and be far more energy efficient as works begin to repair the damage from the January 2020 hailstorm which severely dented the dome's copper roof tiles.
Australian Academy of Science Chief Executive Anna-Maria Arabia said she is thrilled that the restoration works are underway.
"When the Shine Dome was first built, its design was described as unconventional and futuristic. It created all sorts of challenges for the architects and engineers involved and the restoration is no different today," said Ms Arabia.
"This 21st century restoration of the Shine Dome will see innovative solutions used to bring the outside of the building back to its former glory."
The concrete roof of the dome is sheathed in copper—and under the copper is a layer of vermiculite which partly insulates the interior from outside temperatures.
Rather than removing the existing copper tiles, the dome will be covered by a second layer of new copper, with a waterproof material placed between the two layers.
The dual layer will create an innovative ventilated roof. Airflow between the copper sheets will provide insulation and improve the building's energy efficiency.
Work has begun to replace the copper over each of the 16 arches, where water drains from the roof into the moat.
The original copper was intended to oxidise to a dark green-brown over 10 years, but the clean air of Canberra meant that it took much longer.
The same will be true for the new copper which initially will be very shiny, fading to a dark brown over the coming 12 months and eventually to a light green over several decades.
Completed in 1959 and designed by Roy Grounds to provide a home for the Australian Academy of Science, the Shine Dome, previously known as Becker House, was the first Canberra building to be added to the National Heritage List.
It continues to attract worldwide attention and awards for its unique architectural design.
The restoration work on the Shine Dome is being carried out by ARC Roofing and is expected to be completed by early 2022.
The Shine Dome remains open for business as an event venue during the repairs and bookings are welcome.
Read more about the history of the Shine Dome.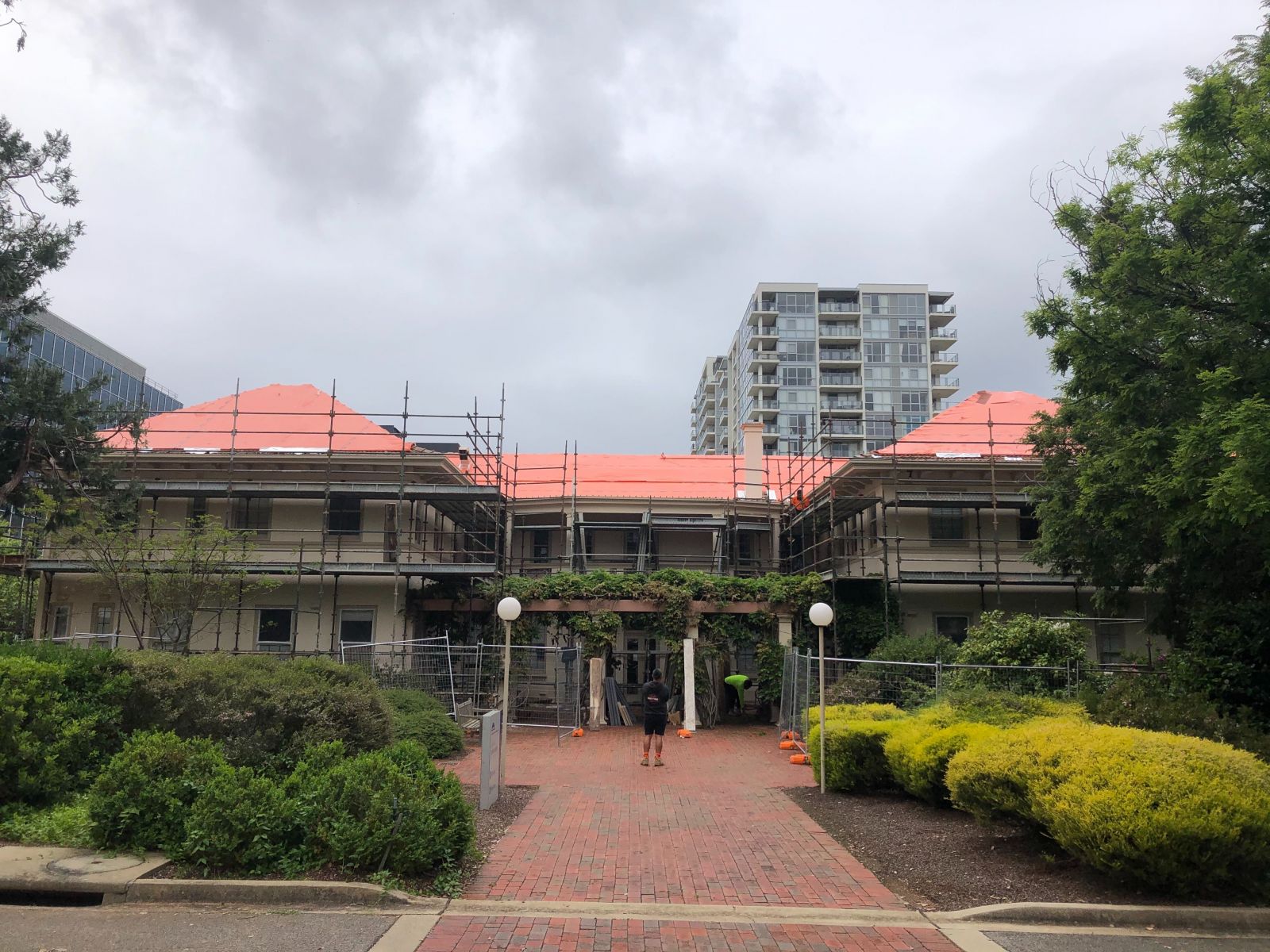 Ian Potter House renovation
Repair and refurbishment works have also begun on Ian Potter House, the office space of the Academy staff, which also suffered severe hailstorm damage. Ian Potter House is located adjacent to the Shine Dome.
Built during the Federal Capital Commission's building program for the transfer of public servants to Canberra in 1927, Ian Potter House was originally the Acton Private Hotel. Ian Potter House was placed on the ACT Heritage Register in 1998.
The restoration work on the building is expected to be completed in mid-2021.
Eric Martin and Associates Architects are involved in both the Ian Potter House and Shine Dome restoration projects.