Basic research and long-term funding focus welcomed by Australia's research leaders
August 17, 2017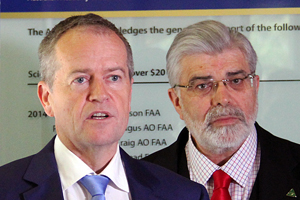 The National Research and Innovation Alliance welcomed Labor's science, innovation and research agenda outlined today by the Opposition Leader, the Hon Bill Shorten MP.
The Opposition Leader laid out his vision for the sector to Australian research leaders, who have gathered at the Australian Academy of Science to discuss the future of Australian knowledge creation and its applications.
In particular the Alliance welcomed Mr Shorten's focus on both basic and applied research, education and sustainable, long-term funding. Key policy initiatives highlighted included:
moving towards research expenditure of 3% of GDP by 2030
new four-year 'smart visas' for academics to enhance Australian research and provide a pathway to permanent residency for the best and brightest
addressing the "endless grant application" process and providing long-term funding to benefit future generations
positioning Australia as a leader in education, to enhance graduate outcomes and position students to become world-class researchers.
Co-convenors of the Alliance, Science & Technology Australia CEO Kylie Walker and Australian Academy of Science Chief Executive Anna-Maria Arabia, said they were heartened by the value placed on basic research by Labor.
"A strong and sustainable research sector underpins knowledge creation, policy development and innovation," Ms Arabia said.
Kylie Walker echoed her sentiments, adding that researchers provide priceless insights to solve issues facing society.
"The National Research and Innovation Alliance represents the breadth of those working to build Australia's knowledge economy. Working with the nation's elected leaders, we can achieve great outcomes for Australian society," Ms Walker said.
The National Research and Innovation Alliance brings together non-government organisations that lead research, working together to create a vibrant Australian research and innovation sector and advise decision makers on how to support the sector to advance Australia's health and wealth.
The Alliance comprises national bodies who represent thousands of researchers and research organisations:
Australian Academy of Science
Cooperative Research Centres Association
Science & Technology Australia
Innovative Research Universities
Academy of Social Sciences in Australia
Group of Eight
Australian Academy of Humanities
Professionals Australia
Australian Academy of Technology & Engineering
Professional Scientists Australia
Association of Australian Medical Research Institutes
Regional Universities Network
Australian Society for Medical Research
Research Australia
Australian Technology Network.