Fellow's donation set to change the lives of upcoming scientists
July 06, 2020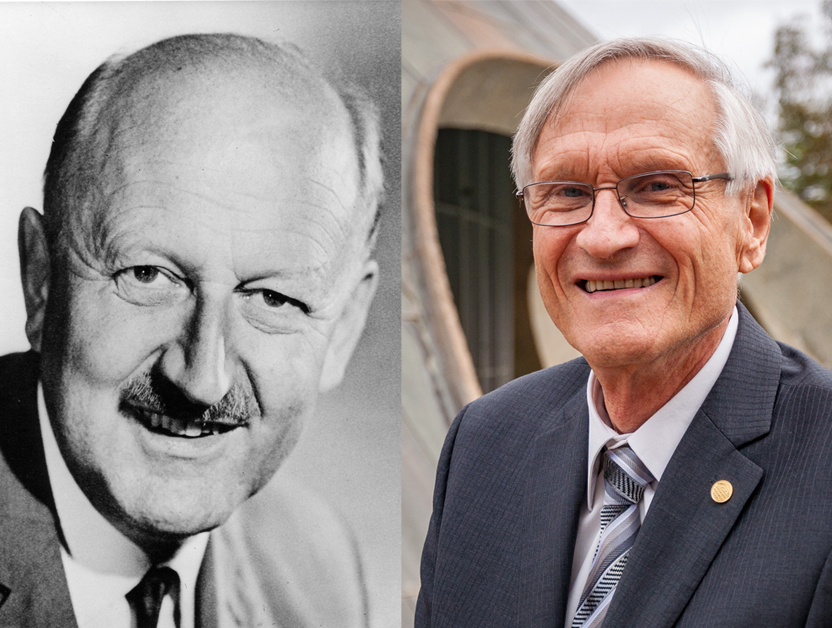 Professor Horace Barber FAA FRS and Professor Michael Barber AO FAA FTSE.
A generous donation by Academy Fellow Professor Michael Barber is set to make an enormous difference to the career trajectory of young or emerging scientists by enabling the Academy to engage two science policy interns in the coming months, ensuring gender diversity amongst them. He has also pledged a further donation the following financial year.
Professor Barber, whose donation of $25,000 will be applied in the 2020–21 financial year, hopes that the internship will provide policy, political and social insight and networking opportunities for talented scientists who are keen to understand the broader context in which science operates. He also hopes that his donation will inspire others to support the valuable work of the Academy.
Elected to the Academy in 1992, Professor Barber has served on committees and supported international relations. He has been elected to Council several times, including advising on science policy, and is currently the Academy's Treasurer. He is also a member of the Development Advisory Committee which supports the Academy's partnerships and fundraising activities.
This story, however, goes back even further for Professor Barber. He proudly speaks of his father Professor Horace Barber, also a Fellow of the Academy who was elected in 1958 in the founding years of the organisation. This rare father–son duo is a remarkable example of intergenerational dedication to research and service to science.
Professor Michael Barber is internationally known for his substantial contributions to the mathematical development of statistical mechanics. His father, Professor Horace Barber, was distinguished for his contribution to plant cytogenetics.
"The donation from Professor Barber comes at a time when defining decisions are being made by the government about Australia's future—decisions that will shape our lives well beyond COVID-19," Academy Chief Executive, Anna-Maria Arabia said.
"Fellows and other leading experts have worked with the Academy to find ways to serve the country by providing the best scientific information available to support decision-makers at this critical time. They inspire me every day.
"The Academy thanks Professor Barber for being among the visionary Australians who recognise and support our work. With his help the Academy is providing evidence to inform decision making at the highest levels to improve our national wellbeing and provide strong national leadership to build a society that is guided by and enjoys the benefits of science."
The science policy internship will be announced on our website, once open for applications.