Fellows recognised in Australia Day honours
January 27, 2017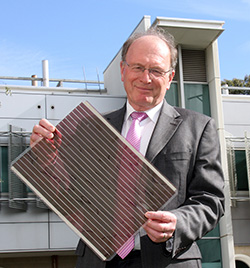 Academy President Professor Andrew Holmes has been recognised with Australia's highest honour, Companion in the General Division of the Order of Australia in the 2017 Australia Day Honours list.
Professor Holmes AC PresAA FRS FTSE received the recognition for his lifetime of service to science including his pioneering research at the interface of chemistry, biology and materials science, as an academic leader and mentor, and through his leadership of scientific organisations. At Cambridge, Professor Holmes led a team that made the breakthrough discovery of light-emitting polymers and co-founded Cambridge Display Technology to commercialise the now-pervasive technology. He received the 2003 Descartes Prize of the European Union, the 2011 John B Goodenough Award of the Royal Society of Chemistry and the 2012 Royal Medal from the Royal Society. He was made a Member of the Order of Australia in 2004.
Professor Holmes returned to Australia in 2004 as a Federation Fellow to lead the Bio21 Institute of the University of Melbourne. He was elected a Fellow of the Royal Society of London in 2000 and to the Fellowship of Australian Academy of Science and the Australian Academy of Technology and Engineering in 2006. He served as Foreign Secretary of the Academy of Science from 2010-2014 and became its President in May 2014.
Fellows recognised as Officers in the General Division of the Order of Australia were:
Professor Max Lu AO FAA FTSE, Vice Chancellor of the University of Surrey in the UK for his pioneering work in chemical engineering and nanotechnology
Professor Gordon Wallace AO FAA FTSE from the University of Wollongong for his research on electromaterials for energy storage and conversion as well as biomedical applications
Professor Colin Masters AO FAA FTSE Senior Deputy Director of the Florey Institute of Neuroscience and Mental Health for his ground-breaking work understanding the mechanisms of neurodegenerative diseases such as Alzheimer's disease
Professor David Vaux AO FAA Deputy Director of the Walter and Eliza Hall Institute of Medical Research for his research that led to new understanding of the genetic and molecular bases of cell death in cancer and other diseases
Fellows recognised as Members in the General Division of the Order of Australia were
Professor Evan Simpson AM FAA Director Emeritus of the Hudson Institute of Medical Research for his ground-breaking research on the biological synthesis of oestrogen and its application in breast cancer and other diseases
Professor Malcolm Walter AM FAA Director of the Australian Centre for Astrobiology at the University of NSW for his pioneering research on microbial biology in extreme ecosystems
Professor Richard Harvey AM FAA Deputy Director of the Victor Chang Cardiac Research Institute for his work understanding and developing cellular pathways for treatment of cardiac disease.