Former Academy President wins PM's Prize for Science
October 17, 2018
Former Academy President Emeritus Professor Kurt Lambeck AO FAA FRS has been awarded the $250,000 Prime Minister's Prize for Science for 'transforming our understanding of our living planet'.
Professor Lambeck received the prize for his research that has revealed how our planet changes shape and the influence this has on sea levels, the movement of continents and the orbits of satellites.
His original work in the 1960s enabled accurate planning of space missions. It led him to use the deformation of continents during the ice ages to study changes deep in the mantle of the planet. It also led to a better understanding of the impact of sea level changes on human civilisation in the past, present and future.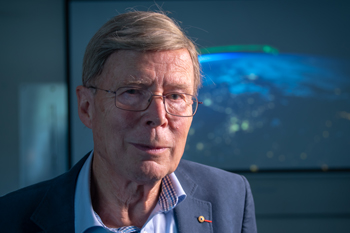 "The Earth is remarkable," Professor Lambeck said.
"It has this wonderful record of its history going back to almost its very beginning. Almost everywhere you look, you learn something new about what's been going on in our planet. It's a constant journey of discovery."
Professor Lambeck guided the development of a comprehensive geodetic monitoring system called the AuScope network. Established with the support of the National Collaborative Research Infrastructure Strategy (NCRIS), the network consists of about 100 GPS stations, radio telescopes and laser tracking systems, and enables us to track our location with sub-centimetre accuracy across the country.
Professor Lambeck is now working with archaeologists in Europe, and with precision carbon dating equipment at the Australian National University, to piece together a more precise understanding of past sea levels.
See the full list of recipients of the 2018 Prime Minister's Prizes for Science
Academy breakfast for prize winners
In line with its annual tradition, on the morning following the Prime Minister's Prizes the Academy hosted a breakfast for the prize winners at the Shine Dome. There was no sign of a late night: conversations were energetic and convivial. Attendees included Academy President Professor John Shine, the Minister for Industry, Science and Technology Ms Karen Andrews, and several of her parliamentary colleagues. Congratulations to all the prize winners!