Fourteen 2023 France and Europe Mobility Grants awarded for outstanding research
August 23, 2023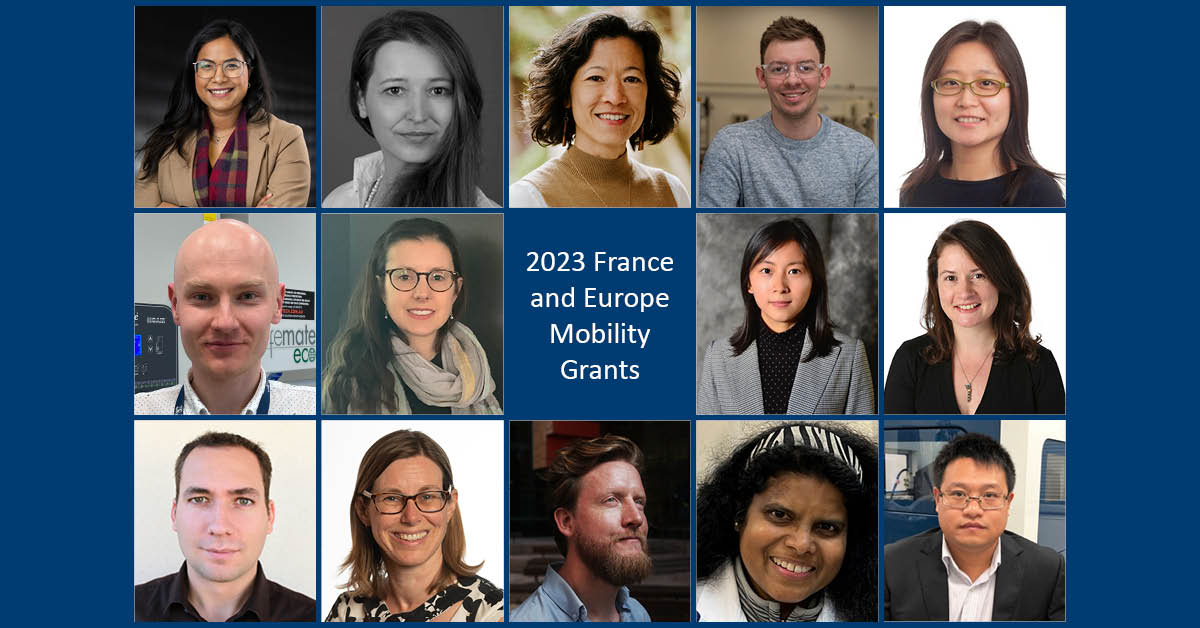 The Academy is pleased to announce the recipients of the France and Europe Mobility Grants for 2023.
A total of just under $100,000 has been awarded to 14 Australian early-and mid-career researchers (EMCRs) to collaborate with leading researchers at major science and technology organisations across Europe.
The grants, valued up to $7,500 each, are made possible by the generous support of the Rod Rickards Fellowships and the Bede Morris Memorial Fund.
Recipients' research covers diverse topics, from how to manage a honeybee pest to developing next-generation materials.
Ten EMCRs have been awarded a 2023 France and Europe EMCR Mobility Grant, funded by the Rod Rickards Fellowships. Among the recipients is Dr Karen Alt from Monash University. Dr Alt's research focuses on the development of a molecular imaging probe for early detection of various diseases, which could accelerate the development of novel drugs for their treatment.
"My visit under the support of the Rod Rickards Fellowship to two world-class laboratories and the World Molecular Imaging Conference will give me the opportunity to present my work and discuss my findings with leading researchers in the field," Dr Alt said.
"This will provide invaluable feedback and open new research opportunities and collaborations, which will directly influence the future direction of my research efforts."
The EMCRs who have received grants funded by the Rod Rickards Fellowships are:
Dr Karen Alt, Monash University – Theranostics: Therapy and diagnostic in a single agent
Dr Guanyu Deng, University of Queensland – Study on fatigue and wear service performances and associated failure mechanisms of an additive manufactured novel cost-effective high entropy alloy
Dr Shashi Goonetilleke, University of Adelaide – SweetFlow: Study of the genetic architecture of phenology-related traits and heat/chill requirements in sweet cherry
Dr Sara Kyne, University of New South Wales – Iron nanoparticles for sustainable synthetic transformations
Dr Yang Liu, James Cook University – Field-deployable chemical sensors for water quality monitoring in the Great Barrier Reef
Dr Chandnee Ramkissoon, University of Adelaide – Exploring the toxicity of amorphous silica in engineered stone dust: Implications for lung disease prevention
Dr Emily Remnant, University of Sydney – Building an integrated Varroa management strategy for Australia's honeybee industry
Dr Neil Robinson, University of Western Australia – Spins on the move: Magnetic resonance hyperpolarisation for next-generation materials development
Dr David Skerrett-Byrne, University of Newcastle – Paternal stress signatures that shape offspring health
Dr Jing Zhang, University of South Australia – MOF-polymer hybrid materials for functional 3D printing under visible light
The following EMCRs have been awarded a 2023 France and Europe EMCR Mobility Grant, supported by the Bede Morris Memorial Fund.
Dr Maciej Daniszewski, University of Melbourne – Transplantation of organoid-derived retinal cells for vision restoration in animal models and assessment of cell function and integration
Associate Professor Jenny Fisher, University of Wollongong – A view from the south: Exploring Southern Ocean mercury cycling and what it means for the UN Minamata Convention
Professor Kim-Anh Lê Cao, University of Melbourne – New statistical methods to integrate microbiome studies
Dr Ludovic Rapp, Australian National University – Restructuring matter with laser pulses at ultra-relativistic intensity: Search for new silicon phases
Professor Kim-Anh Lê Cao's research focuses on the development of statistical methods for the analysis of microbiome data. Her expertise in multivariate statistics and her deep understanding of molecular biology put her at the forefront of cutting-edge biological research.
"Receiving the Bede Morris Memorial Fund is a great honour and a recognition of the importance of developing analytical methods for large biological data," Professor Lê Cao said.
Professor Lê Cao is also an Academy honorific award recipient, receiving the Moran Medal in 2019.
Associate Professor Fisher also received the Academy's Anton Hales Medal in 2022.
---
About the Rod Rickards Fellowships
The Rod Rickards Fellowships were established in 2009 by the family of Professor Rod Rickards FAA in honour of the important contributions he made to Australian science through outstanding achievements in chemistry and biology. Since 2010, Fellowships have been awarded to 40 outstanding Australian EMCRs to travel to Europe and undertake collaborative research projects in the fields of chemistry or biology at cutting-edge institutes.
About the Bede Morris Memorial Fund
The Bede Morris Memorial Fund was established to honour Professor Bede Morris FAA, one of Australia's most distinguished medical scientists. The fund has supported Australian researchers to travel and undertake collaborative projects with researchers in France since the early 1990s. In recent years, the fund has focused support on Australian EMCRs, contributing to travel costs to France for research in any field of the natural sciences.
More information on the France and Europe EMCR Mobility Grants