Academy Fellow Dr Graham Farquhar awarded prestigious Kyoto Prize
June 16, 2017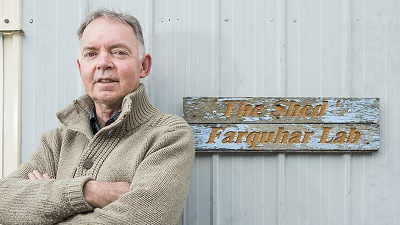 Academy Fellow Dr Graham Farquhar AO FAA FRS has become the first Australian to win a Kyoto Prize—the most prestigious international award for fields not traditionally honoured with a Nobel Prize.
Dr Farquhar has won the 2017 Kyoto Prize in Basic Sciences for his life's work in plant biophysics and photosynthesis, which has involved research on water-efficient crops and the impacts of climate change.
He has helped develop new water-efficient varieties of wheat, improved global food security, and found evaporation and wind speeds are slowing as the climate changes.
'It's wonderful to get this kind of international recognition,' said Dr Farquhar, from the Australian National University Research School of Biology.
'The work that this prize recognises has really been a team effort, so I'd like to acknowledge my colleagues, students and the ANU, where I have worked for my whole career. It's a wonderful honour for all of us.'
Academy President, Professor Andrew Holmes, said the Academy is delighted at the news of the award.
'Dr Farquhar is renowned for his scientifically and economically important research into plant physiology and biology and further contributions to understandings of Earth's climate systems,' Professor Holmes said.
'The Kyoto Prize has been awarded to such eminent people as Jane Goodall, John Maynard Smith and Masatoshi Nei in the past. This forms Graham's hat-trick of prizes—PM's Science Prize 2015, Macfarlane Burnet Medal 2016 and Kyoto Prize 2017.'
Dr Farquhar will receive $600,000 as part of the award.
Kyoto Prizes have been awarded annually since 1985 in three categories—Advanced Technology, Basic Sciences, and Arts and Philosophy—to people 'who have contributed significantly to the scientific, cultural, and spiritual betterment of mankind'.