History made as Pacific scholars vote to establish Pacific Academy
October 31, 2023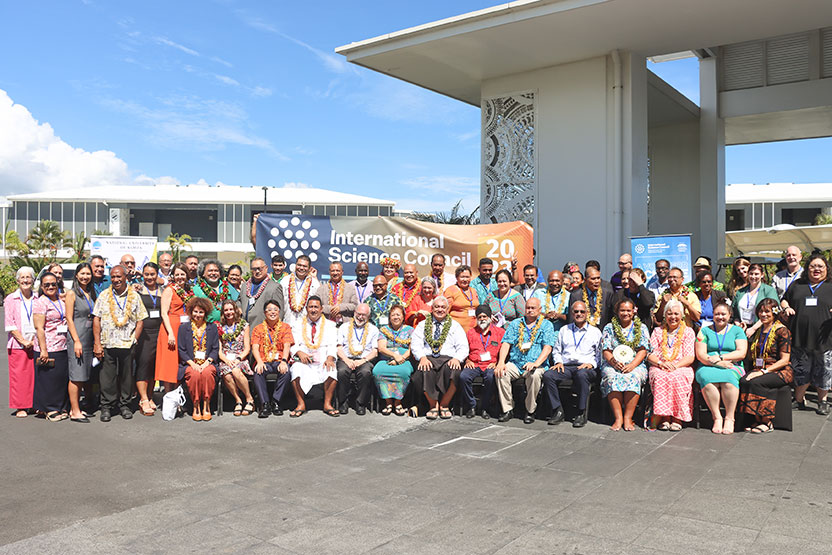 In a truly historic day, more than 60 Pacific scholars from across the Pacific Island nations overwhelmingly agreed to establish a Pacific academy of sciences and humanities at a gathering in Apia, Samoa on 24 and 25 October. 
The establishment of a Pacific academy received the endorsement of the Prime Minister of Samoa, Fiamē Naomi Mataʻafa.
At present, there is no mechanism for Pacific scholars to convene and bring together their knowledge so it can inform regional and international decision-making, despite the region experiencing profound impacts arising from a changing climate. More often than not, decisions are made by others about them, not with them, even though local scientists and indigenous communities possess unique knowledge about their respective regions and inhabitants.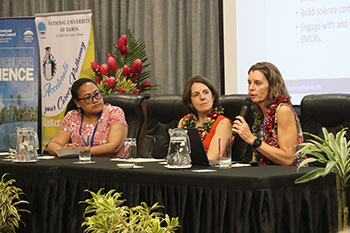 The meeting was attended by Academy Foreign Secretary Professor Frances Separovic AO FAA; Academy Chief Executive, Anna-Maria Arabia; Dr Petra Lundgren, Director, ISC Regional Focal Point for Asia and the Pacific; and Salote Austin, Oceania Manager, ISC Regional Focal Point for Asia and the Pacific. They heard directly from Pacific scholars on their needs and challenges and learnt about the criticality of respecting and incorporating the 'Pacific Way' and indigenous knowledge into decision-making.
Ms Arabia shared the experiences of the Australian Academy of Science, alongside representatives from the African Academy of Sciences, the Royal Society Te Apārangi (NZ), and the US National Academies.  
Ms Arabia said, "A Pacific academy, designed by Pacific scholars, will provide a systematic and permanent mechanism to bring together the region's expertise, and empower local experts to be part of solutions in their region and unite as a voice for science." 
Meeting participants agreed to set up an establishment group to take the next steps in designing an academy that represents Pacific scholars and their knowledge. 
The landmark meeting was facilitated by the International Science Council (ISC) and its regional office, the ISC Regional Focal Point for Asia and the Pacific, which is led by the Australian Academy of Science.  
The meeting was hosted by National University of Samoa, with funding support from the Sasakawa Peace Foundation and the Richard Lounsberry Foundation.