Joint winners at the second Australian Falling Walls Lab
September 12, 2017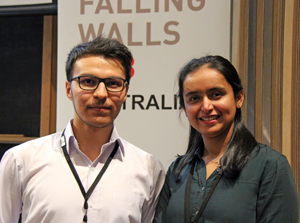 PhD student Mortaza Rezae from Curtin University is the winner of the second Australian Falling Walls Lab, hosted by the Australian Academy of Science.
In a surprise announcement, second placed competitor Australian National University's Dr Vini Gautam, will join Mr Rezae to represent Australia at the Falling Walls Lab finale in Berlin on 8 November.
Mehdi Saeidi from the Auckland University of Technology placed third in the competition.
Mehdi Saeidi and his team are developing an implant to remove excessive load from the knee and to slow the progress of osteoarthritis, which effects millions of people worldwide. The implant aims to reduce the likelihood of a total knee replacement.
25 Australasian researchers and innovators gathered today at the Shine Dome in Canberra to present their work in three minutes on subjects including climate change impacts, quantum computing technology and preventing brain injury in pre-term babies.
Inspired to improve the quality his younger brother's life, who was diagnosed with autism, Mortaza Rezae is working on a mobile application to enable independent public transport access for people with autism.
'Public transport is a minefield of anxiety, distress and sensory overload for people with autism spectrum disorder. My research focuses on enhancing transport accessibly for people with autism to enable them to engage in community and social activities and employment.'
Currently there are no treatments to repair brain damage. Dr Vini Gautam is hoping her technique, using nano-scale scaffolds inserted into the brain as implants, can repair this damage by guiding the neurons to form connections with each other.
The Falling Walls Lab, which began in 2011, provides 'emerging talents, entrepreneurs and innovators a stage to pitch their research work, initiatives or business models to their peers and a distinguished jury from academia and business'. Labs have taken place in 50 countries.
The Falling Walls Lab Australia is organised by the Australian Academy of Science, in association with the Embassy of the Federal Republic of Germany in Australia and the Australian National University.