Mining museum venom, bee memories and more: 2023 J G Russell awardees
February 24, 2023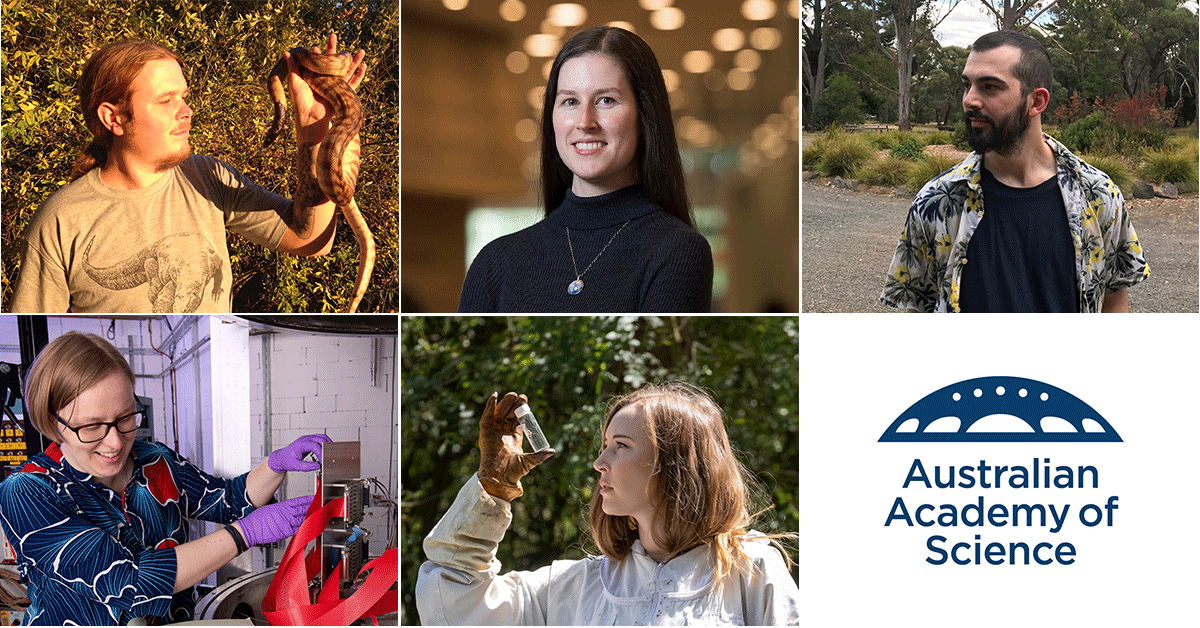 Analysing venom from museum collections—rather than chasing snakes across mountains or oceans—and what a warming climate might mean for bees' ability to forage and pollinate: these are two of several science projects receiving additional funding support in 2023.
The J G Russell Award is a prestigious top-up grant made possible by the generosity of the late Miss J Russell, providing up to $7,000 to projects funded through the Australian Research Council's Discovery Early Career Research Award (DECRA). It recognises the costs involved in experimental research and can be used towards equipment, maintenance and travel.
Five early career researchers have been awarded top-up funding in 2023.
Awardees and their projects
Dr Damien Esquerré, Australian National University
Dr Damien Esquerré's DECRA was granted to use venom as a tool to understand fundamental processes in evolution.
He developed and tested a novel method for characterising venom profiles from preserved museum specimens. His initial focus is Australo-Papuan elapid snakes, but he said the method will be applicable to other animal groups (such as wasps, spiders, jellyfish, snails and frogs), and may provide useful data for drug discovery and anti-venom development.
"This allows [researchers] to discover the venom diversity of species found in remote areas like the Australian deserts, the mountains of New Guinea or the sea snakes in the middle of the Indian Ocean," Dr Esquerré said.
"These species are very rarely encountered or present enormous logistical challenges to obtain alive, but are all available in museum collections thanks to decades of field collection."
He will put the additional funding towards the cost of producing isotopically labelled peptides for mass spectrometry analysis, which is necessary for precise quantification of the toxins in a venom sample.
Dr Rachael Lappan, Monash University
Dr Rachael Lappan is seeking to understand the role of atmospheric microbes in global processes and their impact on human and environmental health.
She will put the award towards purchasing homogeniser equipment for DNA extraction, which will be housed in a dedicated clean laboratory, "enabling ultra-clean sample processing to vastly improve the quality of [my] genomics analysis," Dr Lappan said.
"I appreciate such support offered to young researchers in this challenging and increasingly competitive career, as it not only aids our research but helps to develop us into leaders, so that we may support quality young scientists in the future."
Dr Giorgio Poggesi, University of Western Australia
Interdisciplinary methods and international collaborations are vital for the success of Dr Giorgio Poggesi's DECRA project, which he said capitalises on a large network spanning promising young researchers and world leaders in their fields.
In his study of partial differential equations, he's drawing on a range of techniques and tools, including calculus of variations, shape optimisation, nonlinear analysis and geometric analysis.
Dr Poggesi said he will put the top-up funds towards flights and accommodation for two international scientific visits, strengthening existing relationships and forging new ones.
"I'm very proud to receive this award and grateful to Miss Russell and the Australian Academy of Science," Dr Poggesi said.
Dr Kaitlin Cook, Australian National University
The experiments Dr Kaitlin Cook will perform under her DECRA project relate to novel measurements of the reaction dynamics of the first instant (one zeptosecond) of nuclear collision using the new 'DEEToF detector array', and measuring the full evolution of the nuclear system to re-separation.
Dr Cook said she will put the additional funding towards purchasing a new gas pressure controller and connecting components for the gas handling system of the detector.
"The performance of the gas ionisation counter depends directly on the properties of the gas inside it: the gas needs to be of constant pressure, flow rate and purity … A new gas pressure controller for the DEEToF detector array will significantly improve its performance and reliability and enable faster throughput experiments," Dr Cook said.
Optimising the detector's performance will also increase interest by international collaborators, she said.
Dr Scarlett Howard, Monash University
Among the multifaceted threats posed by climate change, research into the potential impact of higher temperatures on animal cognition remains "a considerable gap", according to Dr Scarlett Howard.
But threats to bee cognition could have broader implications for food production, native plant reproduction, and the function of entire ecosystems—given bees' reliance on learning and memory for reproduction, navigation and the specific behaviours that underpin their pollination behaviours.
Dr Howard will put the award towards a portable temperature-controlled apparatus, allowing her to conduct learning and memory experiments with native bees in remote field locations without needing to transport bees back to temperature-controlled laboratories.
"I'm looking forward to using the funds to further our understanding of native pollinators, their cognition, and how they are adapting to a changing world," Dr Howard said.
"This work should enable us to build frameworks to best support native bees as they face the threats associated with environmental change."
Find out more about previous recipients of this award.
Awardees for the J G Russell Award are chosen from recipients of Australian Research Council DECRAs.​
There are many other awards and opportunities available through the Academy to support researchers at all stages of their career. Applications for the 2024 awards are now open, with several closing on 1 May.