RMIT scientist's 'electronic skin' recognised
June 05, 2018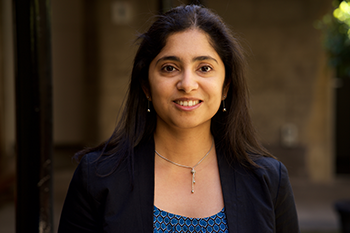 A talented local scientist's work to develop a form of 'electronic skin' that monitors the environment and the human body has been recognised by the Australian Academy of Science.
The Academy nominated Associate Professor Madhu Bhaskaran from RMIT University for the prestigious APEC Science Prize for Innovation, Research and Education (ASPIRE), valued at US$25,000. The ASPIRE Prize will be announced at the 12th APEC PPSTI Meeting in Papua New Guinea in August 2018.
ASPIRE recognises young scientists from Asia–Pacific Economic Cooperation (APEC) member economies who have demonstrated a commitment to excellence in innovation, research and education.
Associate Professor Bhaskaran is Australia's 2018 nominee for ASPIRE for her work in developing stretchable electronics and sensors with applications such as detecting dangerous gases in mines, reducing skin cancer with widespread use of UV sensors or smart contact lenses which can analyse tears for biomarkers.
The Academy also recognised the work of two runners up: Professor Michael Milford from the Queensland University of Technology (QUT) and Professor Igor Aharonovich from the University of Technology Sydney (UTS).
Professor Milford's research covers robotics, neuroscience and computer vision. His work looks at how the brain performs tasks like navigation and perception, with his findings leading to applications across intelligent transport, mining and space exploration.
Professor Aharonovich's breakthrough research on next generation technologies spans healthcare, energy, communications and information. His work on atomically thin materials will support the development of revolutionary techniques to enable early detection of many diseases.
Since 2011, ASPIRE has recognised scientists under the age of 40 who are working in APEC member economies and have demonstrated a commitment to excellence in scientific research and cooperation with other APEC scientists.