Significant Macfarlane Burnet archival collection now available online
January 10, 2023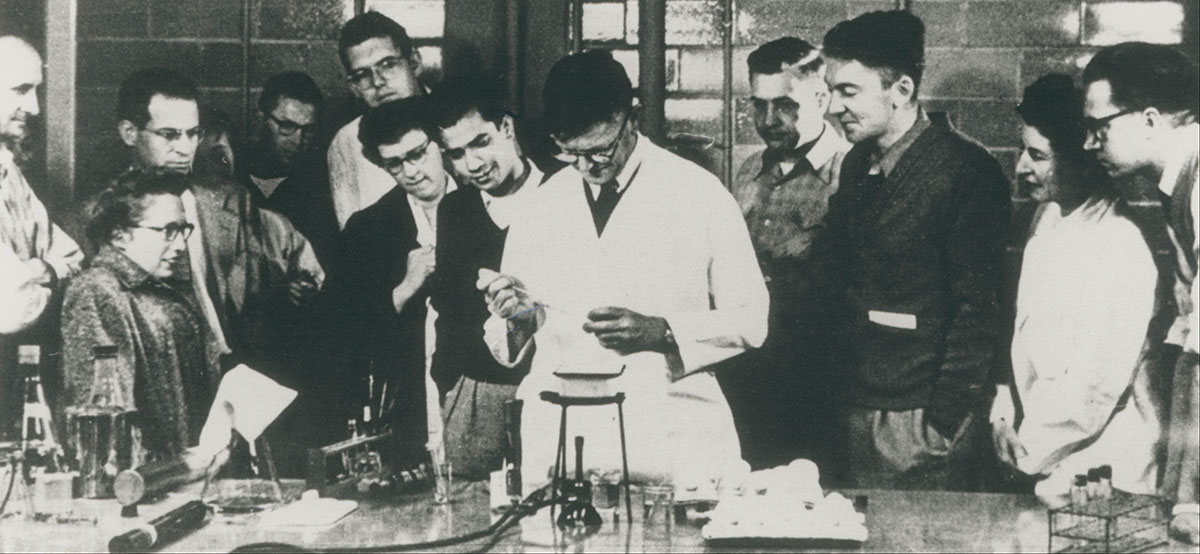 The Academy's collection of one of the twentieth century's most outstanding biologists has been digitised as part of an ongoing collaborative project with the National Library of Australia.
Sir Frank Macfarlane Burnet OM AK KBE FAA FRS Nobel Laureate (1899–1985) made a seminal contribution to modern virology, immunology and microbiology. At a time when many of his contemporaries were compelled to pursue opportunities overseas, Burnet was celebrated as the first Australian scientist to win a Nobel Prize (in Physiology or Medicine) for work undertaken in Australia. He and Sir Peter Medawar were jointly awarded in 1960 for their discovery of acquired immunological tolerance. Their findings showed how the immune system learns to recognise and tolerate its own cells—differentiating between the self and the non-self and revolutionising our understanding of immunity and rejection.
Early career
The Frank Macfarlane Burnet collection held in the archives of the Australian Academy of Science is small by archival standards, but significant. It reaches back into his early career, describing work on bacteriophages and animal viruses, particularly influenza virus, that resulted in major discoveries concerning their nature and replication. It touches on the development of Burnet's ideas concerning immunological tolerance that underpinned his Nobel-winning research and his renowned articulation of clonal selection theory as applied to immunological theory.
The Macfarlane Burnet collection is now freely accessible via Trove and the Academy online catalogue. Highlights include Burnet's reflections on his many years as Director of the Walter and Eliza Hall Institute of Medical Research (WEHI), his thoughts relating to autoimmune diseases, and his theoretical studies of immunology, immunological surveillance and cancer.
Broader context
There are hints of the broader historical context for many of Burnet's later years, including political anxiety surrounding the possibility of atomic and biological warfare sparked by the Cold War. The collection contains reports on the potential biological effects of nuclear explosion fallout penned in response to weapons testing in the Pacific during the 1970s and correspondents as varied as prime ministers Menzies and Whitlam, Governor General Richard Casey and founding member of the Australian communist party Katharine Susannah Prichard who questioned Burnet's steadfast belief that "any attempt to wage germ warfare would be fruitless" and encouraged him to join those protesting the possibility.
The collection reveals Burnet as a scientific generalist with a knack for integrating discoveries made in diverse fields in a series of lectures on the application of science to public health. These papers deal with the broad-ranging implications of advancement in medical research in a tone that reflects both his remarkable creativity and intense distrust of technology that corresponds with occasional scepticism about the future of his field. Sir Gustav Nossal, Burnet's administrative successor at WEHI, would later recall that the most complex scientific apparatus his mentor ever used was a microscope.
To read more about the life and work of Sir Frank Macfarlane Burnet, see the biographical memoir authored by Professor Frank Fenner in 1987 or take a look at Burnet's entry in the Encyclopedia of Australian Science and Innovation.
The Academy thanks philanthropist David Anstice, whose support made digitisation of the Frank Macfarlane Burnet collection possible.
The research and experience of Australian scientists forms the foundation on which we build our future, and it is vital that we capture and preserve their stories. Donations from organisations and individuals are welcome. If you would like more information about supporting the archive project, please contact our Philanthropy Manager at philanthropy@science.org.au.