Sustainability challenges and opportunities the focus of Oceania congress
July 28, 2022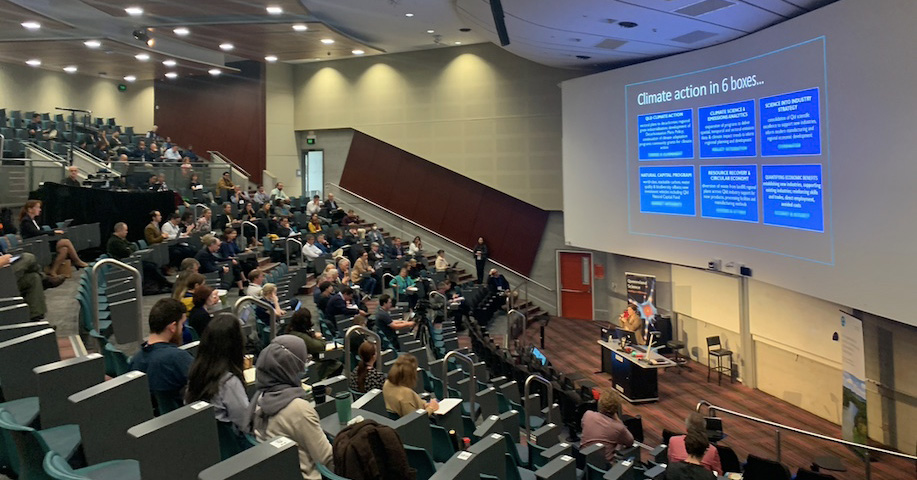 Sustainability leaders, experts, industry professionals and innovators from Australia, New Zealand and the Pacific came together recently to share their knowledge on sustainability challenges and opportunities in the Oceania region as part of a major international sustainability event.
Sustainability Research and Innovation 2022 Oceania was a satellite event of the main SRI Congress held in South Africa, featuring over 2000 delegates from around the world engaging online and in person across the week-long event.
Future Earth Australia, based at the Australian Academy of Science, coordinated the Oceania event, which took place from 29 June to 1 July at the Queensland University of Technology.
The in-depth style conference included a series of panels, workshops and dialogues on pressing sustainability issues for the Oceania region, bringing together 90 expert speakers across dozens of topics including Indigenous knowledge, biodiversity, carbon abatement, urban sustainability, citizen science, cultural heritage and more.
Future Earth Australia welcomed 229 delegates across the conference from industry, government and academia, 95 of whom joined the parallel event of the Queensland Decarbonisation Forum. Alongside many productive in-person conversations, a strong online presence was recorded at this year's event.
The Oceania satellite event built on the outcomes of the inaugural SRI2021 Congress last year in Brisbane, that was led by Future Earth Australia and featured more than 2000 attendees from over 100 countries.
Queensland Decarbonisation Forum
Hosted on the first day of SRI Oceania, the Queensland Decarbonisation Forum convened academic, government and industry delegates to discuss Queensland's decarbonisation agenda.
The forum was organised to provide advice to the Queensland Government, as well as leverage the scientific, research and convening capabilities of Queensland's universities to support the state's decarbonisation efforts.
The event featured vibrant and wide-ranging discussion from 15 speakers on the barriers and opportunities associated with decarbonisation, with a particular focus on Queensland's regions.
The outcomes of the forum will be formalised in three policy white papers based on the three session themes of:
regional transitions
barriers to decarbonisation
land use, land use change, and forestry issues for Queensland.
The policy papers will seek to inform the Queensland Government's approach to decarbonisation and accelerate the state's efforts to reach its renewable energy and emission reduction targets.
Future Earth Australia thanks the following institutions for their support in convening the SRI 2022 Oceania Satellite: CSIRO, Griffith University, University of Queensland, James Cook University, and the Queensland University of Technology.
Special thanks to the Queensland Department of the Environment and Science for convening the 2022 Queensland Decarbonisation Forum, and to the University of the Sunshine Coast for sponsoring the event.