Three emerging innovators to represent Australia at Falling Walls Lab in Germany
September 04, 2019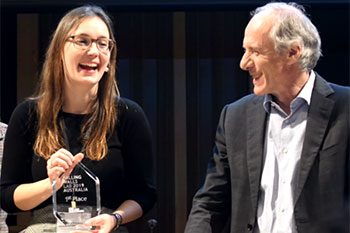 Research Fellow Dr Elena Schneider-Futschik from the University of Melbourne is the winner of the fourth Falling Walls Lab Australia event, hosted yesterday by the Australian Academy of Science.
Second place was awarded to Ms Kate Secombe, a PhD candidate at the University of Adelaide, with University of Queensland PhD candidate Mr Rhys Pirie in third place.
Twenty emerging innovators gathered at the Shine Dome in Canberra to present their ideas, research and initiatives on the theme 'Which walls will fall next?'.
Each participant had just three minutes to make their pitch in front of a jury of eminent academics and leaders from government, business and finance, chaired by Australia's Chief Scientist Dr Alan Finkel.
Dr Schneider-Futschik spoke about 'breaking the wall' of pharmacology for cystic fibrosis (CF) patients. She has developed a technique for measuring drug concentrations in CF patients' blood plasma and an accompanying model to evaluate and predict patient outcomes.
Ms Secombe is investigating the gut microbiome's role in personalising cancer treatment to prevent debilitating intestinal toxicity.
Mr Pirie has developed a chemical recycling process for the more than 60 million tonnes of glass that ends up in landfill because it is too small to be sorted by traditional recycling methods. [UPDATE: Rhys Pirie took out the international prize in Berlin]
The three winners will travel to Berlin to represent Australia at the Falling Walls Lab Finale. They will present their three-minute pitch alongside 100 other finalists selected from more than 55 Labs across the globe.
Falling Walls, this year on 8 and 9 November, is an annual conference held in Berlin. It fosters discussion on research and innovation and promotes the latest scientific findings among a broad audience from all parts of society. The Lab is an international forum for the next generation of outstanding innovators and creative thinkers.
In addition to a larger cohort of Lab participants from Australia, the Academy's role will be expanded at this year's Falling Walls event in Berlin. Director of Communications and Outreach Paul Richards has been invited to join the jury for the Falling Walls Engage competition.
The Academy will also be holding an exhibition stall and presentation during Berlin Science Week at the Museum of Natural History on 6 and 7 November.
Falling Walls Lab Australia is organised by the Australian Academy of Science in association with the Embassy of the Federal Republic of Germany in Australia.