Young Australian researchers collaborate with emerging scientific superpower
July 06, 2017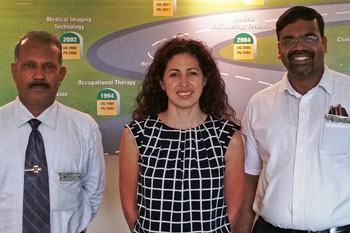 Can exposure to relaxing music help in the recovery of patients with heart failure? That is the question Dr Samia Toukhsati, Cardiology Research Fellow at Austin Health, is asking as part of an Australian Academy of Science Australia–India EMCR Fellowship.
Heart failure is a major global public health problem. Up to 60% of patients do not adhere to their prescribed medication, partly due to perceived side effects.
Dr Toukhsati's research aims to reduce the risks associated with poor medication adherence in Indian heart failure patients, through music therapy. The trial builds on recent evidence of a positive effect of music exposure in Indian cardiovascular disease patients. Her co-investigators in the trial are Dr Abraham S Babu and Dr Padmakumar R from India's Manipal University and Kasturba Medical College and Hospital.
Dr Toukhsati is one of four Australian scientists selected by the Academy from a competitive field of applicants to conduct research in 2017 at some of India's leading research institutions.
The other Fellowship recipients are:
Dr Md Shahriar Hossain (University of Wollongong), investigating superconductors for low-cost fusion power for a sustainable future, with the Institute for Plasma Research.
Dr Vicki Thomson (University of Adelaide), working with the Tata Institute of Fundamental Research to study the disease risk from black rat species in India.
Dr Mike Williams (CSIRO Land and Water, SA), identifying antibiotic and antimicrobial resistance in the Moosi River near Hyderabad using chemical and biochemical markers, with the Indian Institute of Chemical Technology.
Academy President, Professor Andrew Holmes, said that the Fellowships are an important component of Australia's engagement with global scientific enterprise and serve to strengthen existing ties between researchers in Australia and India, the world's second-most populous country and an emerging scientific superpower.
'These Fellowships support high-performing Australian researchers to work with leading Indian scientists at major institutions. They facilitate greater collaboration between our two countries on science, technology and innovation,' said Professor Holmes.
Australian early- and mid-career researchers are invited to apply now for the 2018–19 Australia–India Strategic Research Fund (AISRF) Early- and Mid-Career Researcher (EMCR) Fellowships.
They provide up to $40,500 for Australian researchers to travel to India and work with leading researchers at major Indian science and technology organisations for a period of between three and nine months. Applications close 11 September 2017.