On the job with…Dr Bianca Lê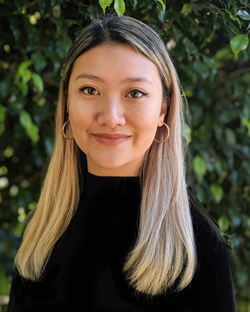 What's your role?
I'm a cell biologist and the Executive Director at Cellular Agriculture Australia. We're a nonprofit organisation building a new industry and research field entirely dedicated to making animal products (meat, eggs, dairy) from animal cells, rather than living animals.
How did you get to this role?
I created it myself! I became obsessed with the concept of cellular agriculture as an effective way to solve so many of the world's most pressing problems (climate change, deforestation, antimicrobial resistance, food insecurity etc…) back in 2018. At the time, there weren't many Aussies who knew what cell ag was, let alone offering jobs in the space. When I finished my PhD in 2020, I founded Cellular Agriculture Australia (CAA) and we've since become a nationally recognised charity with a double digit headcount of staff and volunteers!
Describe a typical day in your job
My job is 95% remote, so you'll always find me on my laptop somewhere (at my desk, on the couch, by the pool, and right now – in Bangkok!). Since we focus predominantly on building the cellular agriculture research field in Australia, I'm often doing talks and guest lectures to university students. I also regularly meet with academics who are in adjacent fields (like regenerative medicine or food chemistry) and want to learn how they can expand their research into cell ag. I also get to work with my incredible team on projects such as running public events, developing educational resources for students, writing scicomm articles and policy papers, and running social media campaigns.
What are the most enjoyable aspects of your job?
Meeting new people who are equally excited as I am about building a better food system! I'm quite extroverted and I find it very difficult to work remotely. However, I've made so many friends with people around the world (most of whom I haven't met in person yet!) since starting CAA, all thanks to the ubiquity of video calls.
What are the most challenging aspects of your job?
Fundraising! Writing grants is one thing – fortunately you get experience with this in academia. However, establishing a loyal base of donors who believe in your mission is something I hadn't had experience in previously. Every charity's strategy for fundraising is unique and there's a lot of trial and error to see what kind of public messaging resonates with people the most.
How does your PhD help in your daily role?
My PhD project was in a completely different research field, however 'learning how to learn' is by far the most useful skill I gained in my PhD. This is a skill you can only truly develop when you're at the leading edge of science and researching something no one else has ever explored before. I also had the privilege of doing some internships and volunteering for various organisations; collectively, these experiences taught me how to communicate science to a layperson and gave me the confidence to do (and enjoy!) public speaking.
Tell us something interesting/cool about yourself
I play many musical instruments, including the piano accordion! Not very well, but I can play a short ditty or two…
Do you have any advice for EMCRs wishing to pursue a career in this area?
Now is the time to get involved! The cellular agriculture industry is so new and there are so many unknowns in the field. Figuring out how to grow a few muscle and fat cells into enough meat to feed the planet is a massive challenge that requires expertise including biochemistry, food safety, mechanical engineering, environmental science and consumer behaviour. If you're interested, reach out to me on LinkedIn or Twitter!