Ian Wark Medal and Lecture
Status
Nominations will open in early 2019 for the 2020 award.
Details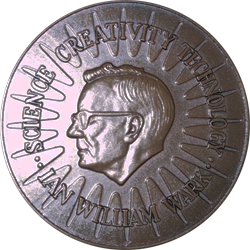 The Ian Wark Medal and Lecture commemorates the contributions to Australian science and industry by the late Sir Ian William Wark CMG CBE FAA FTSE.
The award recognises research that contributes to the prosperity of Australia where that prosperity is attained through the advancement of scientific knowledge or its application, or both. The award is normally made every two years and includes a $3,000 honorarium.
The Australian Academy of Science encourages nominations of female candidates and of candidates from a broad geographical distribution.
NB: If a proposed candidate is already the recipient of an Academy award, the second award must be for a distinct, additional, body of work undertaken since the first award, and/or work in a different field.
Nominate
Awardees
2003—G.J. Jameson
2001—K.G. McCracken
1998—T.W. Healy
1996—R. Woodall
1994—H.K. Worner
1991—W.J. Trahar
1989—D.H. Solomon
1987—A.L.G. Rees