Macfarlane Burnet Medal and Lecture
Status
Nominations will open in early 2019 for the 2020 award.
Nominations are by Academy Fellows only.
Details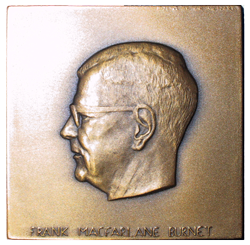 The Macfarlane Burnet Medal and Lecture recognises scientific research of the highest standing in the biological sciences. It commemorates the contributions to science by Nobel Laureate Professor Sir Frank Macfarlane Burnet OM KBE MD FAA FRS Nobel Laureate. Nominations for this award are invited from Academy Fellows only and nominated candidates should normally be resident in Australia.
Nominations
Nominations should be in the form of a letter addressed to the Chair of the Selection Committee and be of no more than 2 pages in length. Nominations should outline reasons for the nomination and contain a short citation. It should clearly state both the candidate's achievements (discoveries and their applications) and the implications and impact of their work. Candidates may be non Fellows.
A short curriculum vitae of approximately 6 pages and a list of the candidate's 20 most important publications should also be attached. The curriculum vitae should contain evidence of international standing, awards and grants, and public speaking.
The Australian Academy of Science encourages nominations of female candidates and of candidates from a broad geographical distribution.
An electronic copy sent by email is preferred. Receipt of the nomination will be acknowledged.
Send to:
Australian Academy of Science Awards
E-mail: awards@science.org.au
Mail: GPO Box 783, CANBERRA ACT 2601
If you need more information, please contact the Awards Officer at awards@science.org.au or phone +61 (0)2 6201 9407.
NB: To be eligible for nomination an appropriate period of time should elapse following the receipt of any other Academy award.
Awardees
2003—B.J. Marshall
2001—G.R. Sutherland
1999—M.R. Bennett
1997—S. Cory
1995—P.M. Colman
1993—D. Metcalf
1991—F.W.E. Gibson
1989—W.J. Peacock
1987—D.A. Denton
1985—F.J. Fenner
1983—D.R. Curtis
1981—J.M. Rendel
1979—G .J .V. Nossal
1977—W. Hayes
1975—R.N. Robertson
1973—E.J. Underwood
1971—J.F.A.P. Miller