Matthew Flinders Medal and Lecture
Status
​Nominations are by Academy Fellows only. Candidates may be non Fellows.
Nominations will open in early 2020 for the 2021 award.
Details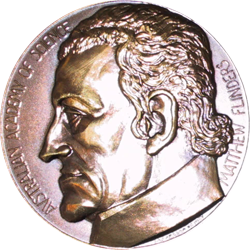 The Matthew Flinders Medal and Lecture recognises scientific research of the highest standing in the physical sciences, and honours the contributions of Australia's early scientific researchers. Nominations for this award are invited from Academy Fellows only and nominated candidate should normally be resident in Australia. Candidates may be non Fellows.
Nominations
The Australian Academy of Science encourages nominations of female candidates and of candidates from a broad geographical distribution.
f you need more information, please contact the Awards Officer, at awards@science.org.au or phone +61 (0)2 6201 9407.
NB: To be eligible for nomination an appropriate period of time should elapse following the receipt of any other Academy award.
Awardees
2005—R.D. Ekers
2002—A. McL. Sargeson
2000—D.V. Boger
1998—W. Compston
1996—W.R. Blevin
1994—N.S. Hush
1992—B.D.O. Anderson
1990—J.S. Turner
1988—R.D. Brown
1986—J.N. Israelachvili
1984—B.H. Neumann
1982—R. Hanbury Brown
1980—A. Walsh
1978—A.E. Ringwood
1976—C.H.B. Priestley
1974—J.P. Wild
1972—A.J. Birch
1969—K.E. Bullen
1967—F.J. Fenner
1965—J.S. Anderson
1963—J.C. Eccles
1961—M.L. Oliphant
1959—F.M. Burnet
1957—J.L. Pawsey