Mawson Medal and Lecture
Status
Nominations for the 2022 award will open in early 2021.

Guidelines
Details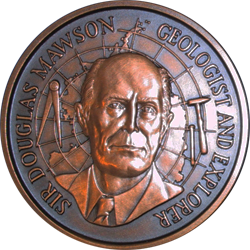 The Mawson Medal and Lecture recognises outstanding contributions to earth science in Australia and commemorates the work of the late Sir Douglas Mawson OBE FAA FRS, geologist and Antarctic explorer. The award is made to a scientist normally resident in Australia and whose work has relevance to Australia. The lecture is delivered at the time of each convention of the Geological Society of Australia.
NB: Candidates may be put forward for more than one award. If a proposed candidate is already the recipient of an Academy award, the second award must be for a distinct, additional, body of work undertaken since the first award, and/or work in a different field.
The Australian Academy of Science encourages nominations of female candidates and of candidates from a broad geographical distribution.
The medal is made by The Royal Australian Mint, Canberra and was designed by Dr Stuart Devlin AO CMG.
Awardees
2004—M. Sandiford
2002—A.J.R. White
2000—C. McA. Powell
1998—B.W. Chappell
1996—G. Seddon
1994—O.H. Warin
1991—P.J. Davies
1989—J.M. Bowler
1988—W. Compston
1986—K.S.W. Campbell
1984—R. Woodall
1983—M.W. McElhinny
1982—D.H. Green
1981—B. Runnegar