Gottschalk Medal
Status
Nominations for the 2020 awards are now open and will close by 9:00am (AEST) 1 May 2019.
​Referee reports are due by9:00am (AEST) 1 June 2019.
Guidelines
Details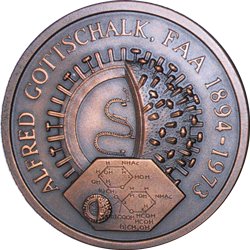 The Gottschalk medal recognises the contributions to science by the late Professor A Gottschalk FAA.
Its purpose is to recognise outstanding research in the biomedical sciences by researchers up to 10 years post-PhD in the calendar year of nomination, except in the case of significant interruptions to a research career. The awardee may not be a Fellow of the Academy. The award is made annually and is restricted to candidates who are normally resident in Australia and for research conducted mainly in Australia.
The Australian Academy of Science encourages nominations of female candidates and of candidates from a broad geographical distribution.
NB: If a proposed candidate is already the recipient of an Academy early-career honorific award, they will not be eligible for nomination for another early-career or mid-career honorific award. A mid-career honorific award recipient will also not be eligible for nomination for another mid-career honorific award. Fellows of the Academy are ineligible to be nominated for early and mid-career awards.
The medal is made by the Royal Australian Mint, Canberra, and was designed by Dr Suart Devlin AO, CMG.
Awardees
2005—RW Johnstone
2004—MH Little
2003—LM Khachigian
2002—M Crossley
2001—CC Goodnow
2000—DL Vaux
1999—MW Parker
1998—DJ Hilton
1997—PR Schofield
1997—BJ Wainwright
1996—DI Cook
1995—MJ Smyth
1994—PJ Goadsby
1993—A Cowman
1992—PM Hogarth
1991—RA Cuthbertson
1990—NM Gough
1989—AR Hardham
1988—A Cockburn
1987—JJ Burdon
1986—NA Nicola
1985—R Appels
1984—JA Angus
1983—GD Farquhar
1982—J Shine
1981—AW Burgess
1980—MB Renfree
1979—CR Parish