Pawsey Medal
Status
Nominations will open in early 2019.
Details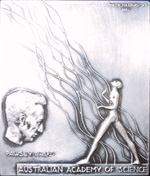 The Pawsey Medal recognises the contributions to science in Australia by the late Dr JL Pawsey, FAA. Its purpose is to recognise outstanding research in physics by scientists up to 10 years post-PhD in the calendar year of nomination, except in the case of significant interruptions to a research career. The award is made annually and is restricted to candidates who are normally resident in Australia and for research conducted mainly in Australia.
The Australian Academy of Science encourages nominations of female candidates and of candidates from a broad geographical distribution.
NB: If a proposed candidate is already the recipient of an Academy early-career honorific award, they will not be eligible for nomination for another early-career or mid-career honorific award. A mid-career honorific award recipient will also not be eligible for nomination for another mid-career honorific award. Fellows of the Academy are ineligible to be nominated for early and mid-career awards.
Nominate
Awardees
2005—MY Simmons
2004—M Bilek
2003—H Wiseman
2002—SV Vladimirov
2001—BP Schmidt
2000—A Murphy
1999—CM de Sterke
1999—RR Volkas
1998—I Bray; YS Kivshar
1997—MT Batchelor
1996—RG Elliman
1995—PA Robinson
1994—PTH Fisk
1993—ST Hyde
1992—DJ Hinde
1991—AE Stuchbery
1990—WK Hocking
1989—KA Nugent
1988—INS Jackson
1987—JWV Storey
1986—B Luther-Davies
1985—RM Pashley
1984—PR Wood
1983—MA Dopita
1982—JA Piper
1981—MA Green
1980—JE Norris
1979—GJ Clark
1978—RN Manchester
1977—JN Israelachvili
1976—WM Goss
1975—RJ Baxter
1974—DB Melrose
1973—BHJ McKellar
1972—KC Freeman
1971—BW Ninham
1970—RA Challinor
1969—KG McCracken
1967—RM May