National Committee for Earth Sciences
The National Committee for Earth Sciences (NCES) aims to foster Earth sciences in Australia, link the Academy to Australian Earth scientists and relevant scientific societies, and serve as a link between Australian and overseas Earth scientists, primarily through the International Union for Quaternary Research, the International Union for Geodesy and Geophysics and the International Union for Geological Sciences.
The NCES seeks to shape future directions for Australian Earth sciences, including by producing a decadal plan for the discipline. The plan will facilitate and encourage community-wide strategic planning initiatives; engage with the national UNCOVER initiative generated by the Academy through the Chair of NCES; promote the national value and benefits of the Earth sciences; liaise with relevant Earth science stakeholders through the UNCOVER committees and national UNCOVER forums; develop a conduit to engage with state, territory and geological surveys, and Geoscience Australia; and manage relations between Australian Earth scientists, the Academy and international unions.
Statement regarding a decline in funding of tertiary geoscience departments across Australia
In August 2021 the National Committee for Earth Sciences published a statement addressing the systematic reduction in staff members in geosciences departments in Australia in recent years.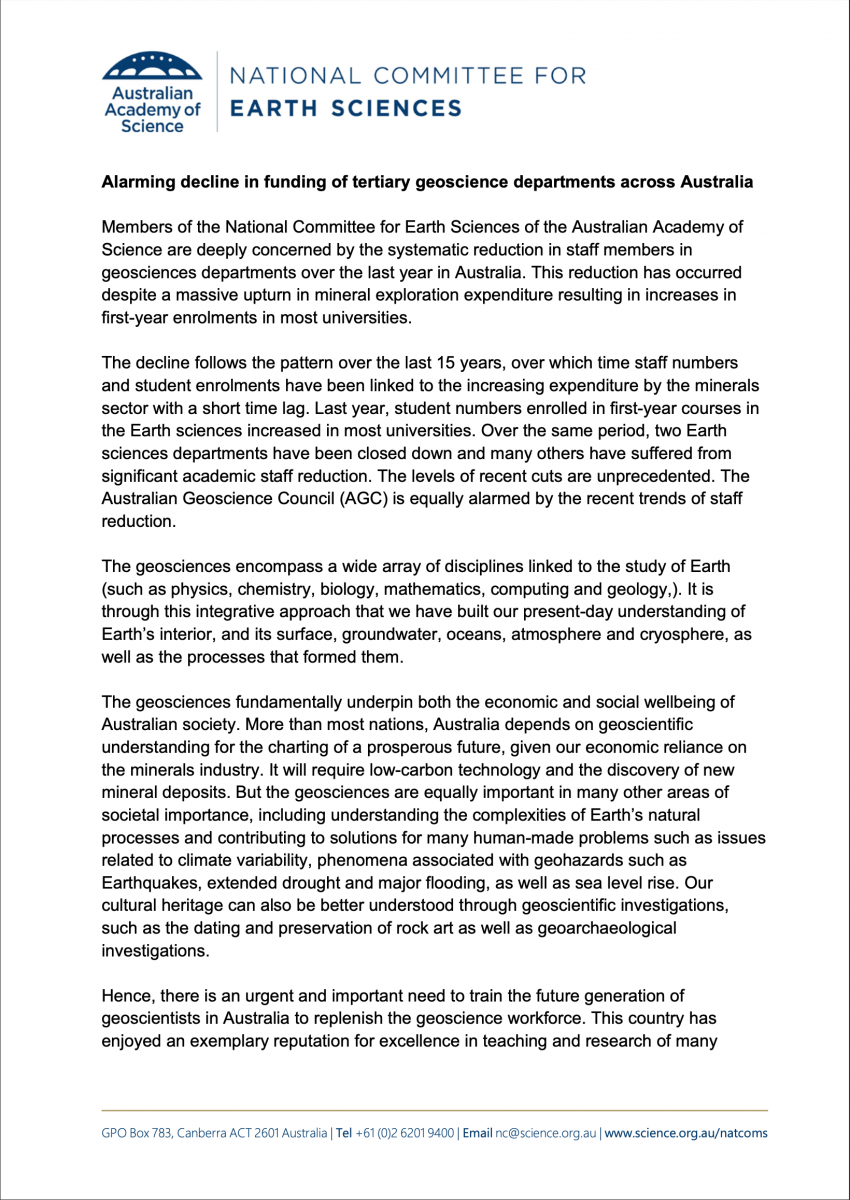 Download the statement here (PDF, 180KB)
Subscribe to Geodesy and Geophysics News and Opportunities
The National Committee for Earth Sciences provides regular electronic updates on Australian geodesy and geophysics from international scientific unions and committees, in addition to news from the local scientific community, relevant funding opportunities, conferences and awards
Governance
Reports and activities
Related groups and organisations
Members