Academy events shine 'after dark' at the World Science Festival Brisbane
April 30, 2019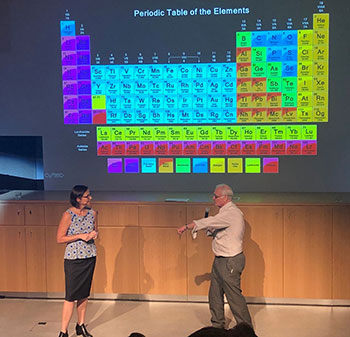 The Academy injected a dose of chemistry into Queensland Museum's After Dark event, part of the World Science Festival Brisbane in March. The sold-out event attracted 600 people to the Queensland Museum for a night of music, interactive science entertainment and expert talks.
The Academy presented a theatre show '10 elements in 10 minutes—or near enough!' featuring ABC science journalist and broadcaster, and Academy Fellow Professor Robyn Williams, and Dr Nicole Lawrence from the University of Queensland. The pair delighted the crowd with fun facts about as many elements on the periodic table as possible.
The Academy also ran an interactive 'chemistry of gin' booth in conjunction with the Art of Booze, a boutique Australian distillery. The booth drew a line-up of guests, with many keen to sample a colour-changing gin infused with butterfly pea flower.