Buzz Aldrin to visit Australia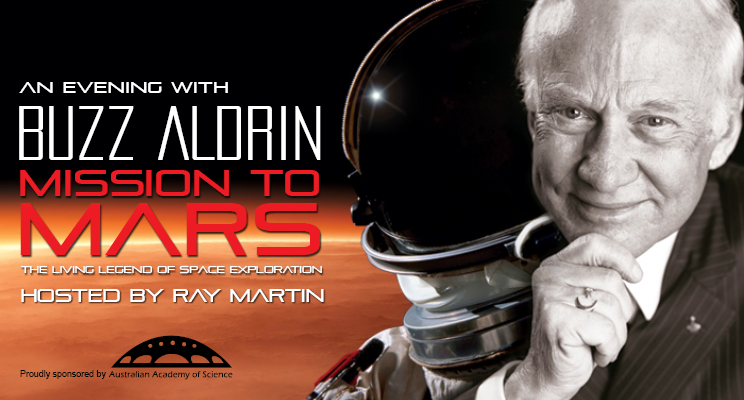 The Australian Academy of Science has partnered with Live on Stage Australia to bring legendary astronaut Buzz Aldrin to the Australian stage.
'Buzz Aldrin: Mission to Mars' will take a journey with Buzz through space history and into a future beyond Earth. On stage with journalist Ray Martin, Aldrin will relive his missions, from fighter pilot in Korea, to the world's first successful record-setting complex spacewalk, and the historic Apollo 11 Moon landing where together with Neil Armstrong, he became one of the first two humans to set foot on another world. The show will also explore Aldrin's new mission: to land humans on Mars by 2035. Using stunning images and footage from Buzz Aldrin's personal library of material, this is a once-in-a-lifetime opportunity to see and learn from a legend of space exploration.
Buzz Aldrin will appear in Sydney on 27 November and Melbourne on 29 November.
Tickets now on sale
Tickets purchased through the Academy's dedicated secure link receive a 5 per cent discount. Five per cent of proceeds for all tickets sold through this link will support the Academy's science education and outreach work.
---