Academy sponsors international EMCRs at Science at the Shine Dome
June 26, 2019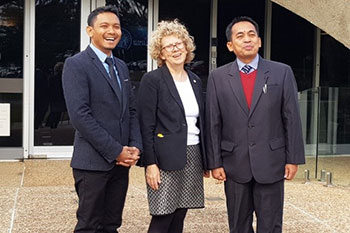 Two international early- and mid-career researchers (EMCRs) from South-East Asia attended Science at the Shine Dome 2019, thanks to sponsorship from the Academy.
Dr Mohd Sukor Su'ait, a Research Fellow at Solar Energy Research Institute (SERI), Universiti Kebangsaan Malaysia (UKM), and Professor Hadiyanto, from the Chemical Engineering Department, Diponegoro University, Indonesia, travelled to Canberra to meet and network with Fellows and other EMCRs.
They also visited the ANU Energy Change Institute at the Australian National University, hosted by Professor Kylie Catchpole from the College of Engineering and Computer Science.
Both Dr Su'ait and Professor Hadiyanto said they benefited personally and professionally from attending the Academy's flagship event.
Dr Su'ait said that as a scientist involved in renewable resources and energy materials, he was inspired by Fellows of the Academy and their scientific journey. This has motivated him to pursue academic excellence not only in academia but also in industry, and contribute to the national development of Malaysia.
Professor Hadiyanto said that attendance at this event was of great value and gave him a broad view of research activities in Australia in the area of renewable energy. Professor Hadiyanto had discussions with researchers about potential research collaborations.