Organisations across the STEM sector championing the Women in STEM Decadal Plan
October 29, 2019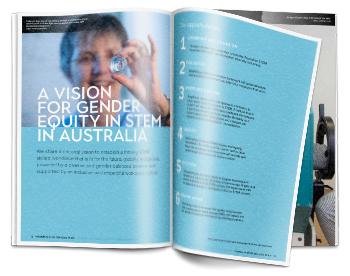 Attracting women and girls to STEM and providing an environment for them to thrive and progress is a shared responsibility of government, academia, the education system, industry, and the community.
The Women in STEM Decadal Plan offers a vision and opportunities to guide stakeholders as they identify and implement specific actions they must take to build the strongest STEM workforce possible to support Australia's prosperity.
Action is being taken by Women in STEM Decadal Plan Champions—STEM organisations that have agreed to publicly align their gender equity journey with the decadal plan. The Academy welcomes and celebrates the new Women in STEM Decadal Plan Champions:
Monash University
St Vincent's Institute
Power of Engineering
Royal Australian Chemical Institute
University of Newcastle
QinetiQ
Bureau of Meteorology
Gemaker
Griffith University
University of Technology Sydney
Women in Subsea and Engineering
Women in Technology WA
South Australian Health and Medical Research Institute
Raytheon Australia
University of Sydney
Science & Technology Australia
ANSTO
Each organisation is demonstrating its progress towards gender equity by publishing a written response aligning its activities against the six opportunities in the decadal plan.
'It is incredibly useful to begin understanding the broad range of gender equity activities being undertaken by organisations,' said the Academy's Diversity and Inclusion Manager Louise Moes.
'The Academy will collate these champion responses to provide a source of ideas and inspiration for everyone who would like to support girls and women in STEM and progress the vision of the decadal plan.'
The Academy is currently preparing its own response to the decadal plan with the intention of making it publicly available. It has also joined the Diversity Council of Australia, the independent, not-for-profit peak body for workplace diversity and inclusion in Australia.
All organisations in the sector are encouraged to become Women in STEM Decadal Plan Champions.