Academy announces 2022 Fellows for outstanding contributions to science
May 26, 2022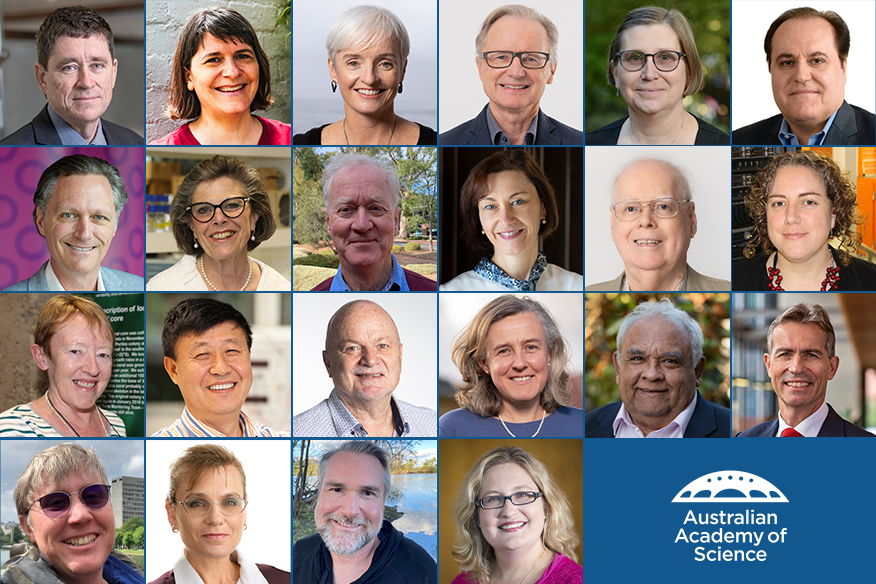 An Indigenous health champion and a pioneering astrophysicist are among 22 Australians recognised for their outstanding contributions to science by being elected Fellows of the Australian Academy of Science.
Professor Tom Calma AO, Chancellor of the University of Canberra, has been elected for championing the improvement of Indigenous peoples' health, education and justice for over 45 years. His work continues to have an enduring impact on public discourse in Australia and beyond.
Professor Calma is the first Fellow elected to the Academy who identifies as an Aboriginal person. He is a descendant of the Kungarakan and Iwaidja tribal groups, whose traditional lands are south-west of Darwin and on the Cobourg Peninsula in the Northern Territory.
Professor Naomi McClure-Griffiths has been recognised for advancing our understanding of how our own galaxy and its neighbours evolved, including her creation of a model proving the existence of a new spiral arm of the Milky Way.
She has helped design multiple radio telescope facilities, included CSIRO's ASKAP and the planned globe-spanning SKA, and her leadership has been instrumental to high-resolution observational surveys of the sky.
Professor McClure-Griffiths' detailed atlases of atomic hydrogen gas in our galaxy are used by astronomers and astrophysicists around the world.
They are joined by 20 other outstanding researchers from across the breadth of Australian science, including experts on fragile river ecosystems, clean energy technologies and the genomes of Australian native animals.
Professor Chennupati Jagadish AC, who today takes the reins as President of the Australian Academy of Science, congratulated the new Fellows for their contributions to science.
"Fellows of the Australian Academy of Science are among the nation's most distinguished scientists, elected by their peers for ground-breaking research and contributions that have had clear impact," Professor Jagadish said.
"The Academy's actions to improve gender diversity among our Fellowship are succeeding. This year's Fellows include 50% women and 50% men, the first time in the Academy's history that gender parity has been achieved in the annual election of new Fellows.
"This has been achieved by adopting a range of measures to improve our nomination process and increase opportunities to recognise all scientists. Our work to improve diversity among our Fellowship continues.
"We reflect a diverse and inclusive science community that recognises the widest range of talents, backgrounds, perspectives and experiences, and we are united by our contribution and commitment to scientific excellence," Professor Jagadish said.
The Academy's new Fellows for 2022 are:
ACT
Thomas Calma – Chancellor, University of Canberra
Naomi McClure-Griffiths – Astronomer, Australian National University
Ute Roessner – Plant scientist, Australian National University
NSW
Katherine Belov – Biologist, University of Sydney
Marcela Bilek – Physicist, University of Sydney
John Cannon – Pure mathematician, University of Sydney
Catherine Greenhill – Pure mathematician, UNSW Sydney
Michelle Haber – Childhood cancer scientist, UNSW Sydney
Emma Johnston – Marine ecologist, UNSW Sydney
Albert Zomaya – Computer scientist, University of Sydney
QLD
Stuart Bunn – Freshwater ecologist, Griffith University
Janice Lough – Climate scientist, Australian Institute of Marine Science
Sarah Medland – Statistical geneticist, QIMR Berghofer Medical Research Institute
Huijun Zhao – Chemist, Griffith University
VIC
Matthew Bailes – Astrophysicist, Swinburne University of Technology
Kate Smith-Miles – Applied mathematician, University of Melbourne
SA
Peter Høj – Vice-Chancellor, University of Adelaide
Timothy Hughes – Haematologist, South Australian Health and Medical Research Institute
Peter Langridge – Agricultural researcher, University of Adelaide
Craig Simmons – Groundwater scientist, Flinders University
TAS
Elizabeth Fulton – Ecosystem modeller, CSIRO Oceans and Atmosphere
WA
Jonathan Carapetis – Paediatric physician, Telethon Kids Institute
Find out more about our 2022 Fellows.
Corresponding Members
Also admitted to the Academy are two Corresponding Members. The new Corresponding Members for 2022 are:
Professor Anne Dell – Biochemist, Imperial College London
Professor Lei Jiang – Chemist and material scientist, Chinese Academy of Sciences
Corresponding Membership is a special category within the Fellowship, comprising eminent international scientists with strong ties to Australia who have made outstanding contributions to science. There are currently 34 Corresponding Members of the Academy.
More information
Following the 2022 election of our new Fellows, the Fellowship now stands at 590 Fellows.
The 2022 new Fellows will present their work and achievements at Science at the Shine Dome on 23 November. This is the Academy's annual flagship event where Australia's most influential scientists gather to celebrate science and to honour outstanding achievements in science.
The Australian Academy of Science was founded in 1954 by Australian Fellows of the Royal Society of London, with the distinguished physicist Sir Mark Oliphant as founding President.
Find out more about criteria for ordinary and special election to the Academy and how to nominate a scientist for fellowship.