Gender equity conference demonstrates progress and inspires change
February 28, 2020

The Catalysing Gender Equity 2020 Conference, held on 20 and 21 February in Adelaide, clearly demonstrated the success, impact and growth potential for inclusion and diversity in STEM. The two-day conference was hosted by the Academy in collaboration with Science in Australia Gender Equity (SAGE).
The conference was guided by the Women in STEM Decadal Plan that was launched in April last year, and brought together representatives from across research, industry, education and government to celebrate success and highlight key action areas to achieve change.
Focus on challenging issues
Delegates participated in a variety of sessions, each focusing on progressing and implementing strategic recommendations and opportunities in the decadal plan. The 12 workshops focused on challenging and persistent issues such as merit, measuring success, impact of equity actions, engaging men and approaches to intersectionality.
Twelve inspiring and exceptional changemakers from the STEM Women online community were enabled to attend and speak at the conference, thanks to a generous donation from Academy Fellow Professor Michelle Coote.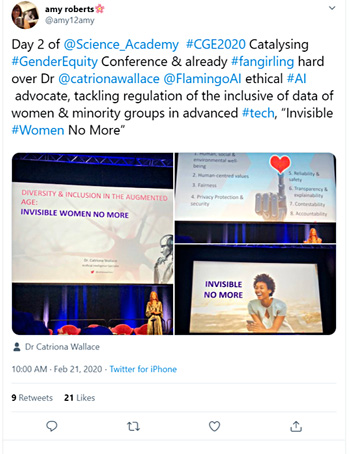 Inspiring plenary speakers included the Australian Government Women in STEM Ambassador, Professor Lisa-Harvey Smith, who spoke about the need to turn actions into equity, accountability and the critical work she is undertaking to bring about change as Ambassador. Delegates also heard from the inspiring and insightful Dr Catriona Wallace, Founder and Executive Director of Flamingo AI, on the urgent need for a gender lens in the augmented age.
Another highlight was the panel discussion featuring inspirational stories from eminent women in STEM, including Academy Fellows Professor Jenny Graves of La Trobe University and Professor Veena Sahajwalla of UNSW Sydney, Academy Chief Executive Anna-Maria Arabia, Chief Scientist for South Australia Professor Caroline McMillen, and Dr Wallace.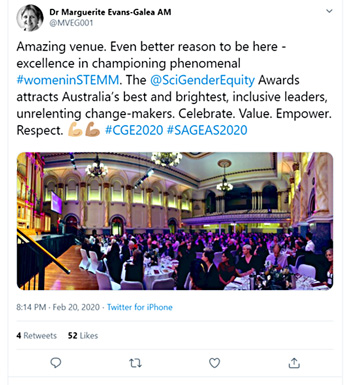 Male Champions of Change founder Elizabeth Broderick facilitated a panel discussion featuring six leaders from the Male Champions of Change in STEM: Dr Adi Paterson of ANSTO, Dr Larry Marshall of CSIRO, Academy Fellows Professor Brian Schmidt of the Australian National University and Professor Tanya Monro of Defence Science and Technology, Dr James Johnson of Geoscience Australia, and Dr Bronwyn Evans of Engineers Australia. The STEM leaders discussed how leadership and accountability is key to putting equity theory into practice.
Bronze Awards for SAGE members
The conference coincided with the 2020 SAGE Awards dinner that celebrated the 11 recent recipients of the Athena SWAN Institutional Bronze Awards. These awards recognise an institution's commitment to advancing the careers of women, trans and gender diverse individuals in science, technology, engineering, maths and medicine. Forty-five Australian higher education and research institutions have completed the SAGE pathway to accreditation so far, with 39 of these organisations being awarded the Athena Swan Institutional Bronze Award.
Catalysing Gender Equity 2020 was made possible by the generous support of the conference partners: UniBank, the Australian Government Department of Defence, Edith Cowan University, Flamingo AI and Queensland University of Technology.
In summing up, Academy Chief Executive Anna-Maria Arabia said that "Inclusion is a shared responsibility—not just the organisations and leaders and programs, but individual responsibility". The Academy looks forward to working with all organisations to progress the outcomes from the event and fulfill the vision of the Women in STEM Decadal Plan.