David Craig Medal and Lecture
Status
Nominations for the 2020 awards are now open and will close by 9:00am (AEST) 1 May 2019.
​Referee reports are due by 9:00am (AEST) 1 June 2019.
Guidelines
Details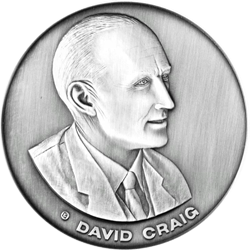 The David Craig Medal and Lecture is made in honour of the outstanding contribution to chemical research of the late Emeritus Professor David Craig AO FAA FRS. Its purpose is to recognise contributions of a high order to any branch of chemistry by active researchers. The awardee is expected to present several public lectures in cities across Australia. The award is made annually and is given to candidates who are normally resident in Australia and for research conducted mainly in Australia.
The Australian Academy of Science encourages nominations of female candidates and of candidates from a broad geographical distribution.
NB: If a proposed candidate is already the recipient of an Academy award, the second award must be for a distinct, additional, body of work undertaken since the first award, and/or work in a different field.
Awardees
2005—JW White
2004—AM Bond
2003—MI Bruce
2002—LN Mander
2001—MN Paddon-Row
2000—NS Hush