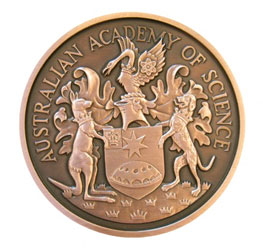 Academy Medal
Status
The call for nominations is currently closed
The Academy Medal recognises outstanding contributions to science by means other than through scientific research. It is awarded to a person outside the Fellowship who has, by sustained efforts in the public domain, significantly advanced the cause of science and technology in Australia or who has made a substantial contribution to the Academy.
Council may decide to award an Academy Medal after the proposal by the President of a candidate. In milestone anniversary years the medal may be awarded to up to three people. Normally, the medal would be awarded no more frequently than once in three years.
The medal is made by the Royal Australian Mint, Canberra and was designed by Dr Suart Devlin AO CMG.
Medallists
© 2023 Australian Academy of Science
Top