Australia 2050: Conversations about our future
Our world is experiencing transformative change. Geopolitical forces are realigning. The centre of economic gravity is moving east. Our climate is changing, and we are heading for a population of 9–10 billion by mid-century that is economically globalised and undergoing profound urbanisation and demographic transitions.
The Australian Academy of Science's ambitious Australia 2050 project is intended to help Australia chart its path into this uncertain but shared future by engaging scientists, business people, policy makers and members of the public in structured conversations about the challenges we face, and the kind of Australia we want for our children.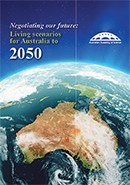 About the project
Australia 2050 was initiated in 2010 by the Australian Academy of Science with funding from the Australian Research Council (ARC). The project was run in two phases.
Phase one brought together scientists and experts in economics, the humanities and business to take part in a four-day workshop that set out to answer the question: What is a realistic vision for an ecologically, economically and socially sustainable Australia to 2050 and beyond? It considered how such a vision could be developed and evolved to support coherent societal responses to the great challenges of environmental and economic sustainability and social equity. Participants discussed this issue from contrasting perspectives and agreed on the idea of 'Living Scenarios' - shared, ongoing explorations of how the future might unfold.
The second phase of the project put the Living Scenarios concept into action at a two-day workshop held in Canberra in 2013 where 50 Australians from a wide variety of backgrounds were invited to share their ideas through a set of guided conversations about what Australia might become.
More information about all phases of this ambitious five-year project are available by downloading the resources above. The resources are intended to be used by groups around the country who want to discuss what they and others can do to influence Australia's future. The Academy hopes that these resources will help contribute to many future conversations and debates about our future.