Australia's data-enabled research future: Science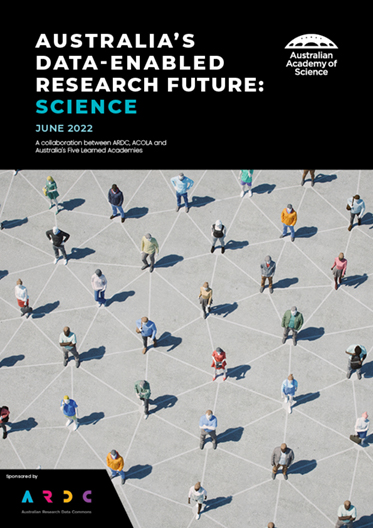 Published 23 June 2022
This report presents key strategic data-related needs and challenges for science research captured by the Australian Academy of Science through consultations with researchers and other experts across a range of science disciplines.
The report finds key data challenges and opportunities including greater coordination and national integration across Australia's research data infrastructure, consistent and enforceable data policies and standards, promotion of data sharing, addressing challenges associated with using and managing large volumes of data, and development of a digitally-skilled research workforce.
The report provides recommendations for action and leadership to address these urgent research data issues to support data-enabled scientific research in Australia.
Read the Academy's media release
This project is the result of a partnership between the ARDC, Australia's five Learned Academies and ACOLA to ensure Australia can undertake excellent data-enabled research across all fields of research. Notably, the project sought to help build a more coherent data policy and strategic data planning environment to uplift national data infrastructure. Five domain reports were developed, and a synthesis report focused on common themes and cross- and inter-disciplinary opportunities and needs. We hope that this project will transition into an ongoing national data policy and strategic planning capability.
Read the ARDC and ACOLA media release
Read the other learned academies reports:
This project received investment from the Australian Research Data Commons (ARDC). The ARDC is supported by the National Collaborative Research Infrastructure Strategy (NCRIS).