2019 Academy awards and grants now open
March 19, 2018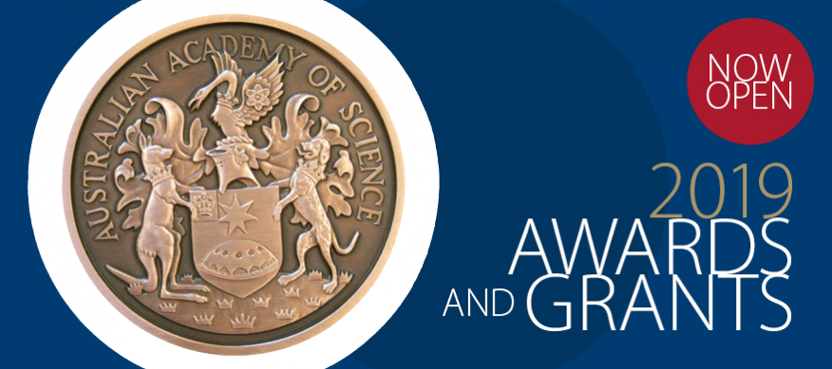 Nominations and applications for the Australian Academy of Science's 2019 honorific awards, research conferences, research grants and travelling fellowships are now open.
Nominations for honorific awards
The Academy is calling for nominations for its prestigious honorific awards for early-career, mid-career and career researchers.
Previous winners of the Academy's honorific awards have gone on to great achievements, including winning Nobel Prizes and election to international Academies for their outstanding contributions to science.
Career awards are presented in chemistry, mathematics, Earth sciences and physical sciences. Candidates for the Matthew Flinders Medal and Lecture must be nominated by Fellows of the Academy.
Research scientists from 8 to 15 years post-PhD are invited to apply for the Academy's mid-career awards, which are offered in experimental biomedicine, and women leaders in any branch of science.
Researchers up to 10 years post-PhD are invited to apply for early-career awards in Earth sciences, mathematics, biology, medical research, engineering, chemistry, statistics, physics and human genetics.
The closing date for the 2019 award nominations is 9 am (AEST) 1 May 2018. Referees will have until 1 June to submit their letters of support.
Applications for research grants, travelling fellowships, and research conference funding
The Academy has opened applications for research grants, travelling fellowships and research conference support for 2018–19. The closing date is 9 am (AEST) 1 June 2018.
Close to $280,000 will be offered by the Academy in 2018 for support for research in:
medical science
endangered Australian native vertebrate animals
environmental science
history of science
population and environment
marine, soil and plant biology.
More than $50,000 is available for research conference and lecture support and for travelling fellowships to overseas scientists to visit Australian research centres and deliver national lecture tours. Research conference support includes the Boden Research Conference in the biological sciences; the Elizabeth and Frederick White Research Conference in the physical sciences; and the Fenner Conference on the Environment.
Find out more about grants, fellowships and conference funding offered by the Academy.
The closing date for application and nomination for Academy grant funding is 9 am (AEST) 1 June 2018.