Teacher notes - Dr Fraser Bergersen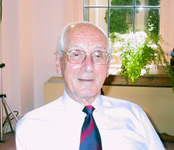 Plant scientist
Contents
View Dr Fraser Bergersen's photo gallery
You can order the DVD from the Academy for $15 (including GST and postage)
---
Dr Fraser Bergersen was interviewed in 2004 for the interviews with Australian scientists series. By viewing the interviews in this series, or reading the transcripts and extracts, your students can begin to appreciate Australia's contribution to the growth of scientific knowledge.
The following summary of Bergersen's career sets the context for the extract chosen for these teachers notes. The extract describes what nitrogen-fixing notdules are and why they are important to plant science. Use the focus questions that accompany the extract to promote discussion among your students.
Fraser Bergersen was born in New Zealand in 1929. He earned a BSc in 1952 and an MSc in 1954 from the University of Otago. His studies were in microbiology and included investigating cross-resistance to antibiotics in Staphylococcus aureus, golden staph. In 1962 he received a DSc from the University of New Zealand.
Bergersen moved to Canberra in 1954 to take up an appointment at the CSIRO Division of Plant Industry, where he remained for the rest of his scientific career. His research added to our understanding of the basic science that happens in nitrogen-fixing nodules found on the roots of a variety of plants. Bergersen's work combined basic science with practical applications in agriculture. He retired in 1994.
He was elected as a Fellow of the Australian Academy of Science in 1985 and served the Academy as Foreign Secretary from 1989 to 1993. He was elected as a Fellow of the Royal Society in 1981. In 2000 he was made a Member in the General Division (AM) for service to scientific research in the field of microbiology, particularly through the study of symbiotic nitrogen fixation in legumes leading to improved crop performance in Australia and Asia.
---
Select activities that are most appropriate for your lesson plan or add your own. You can also encourage students to identify key issues in the preceding extract and devise their own questions or topics for discussion.
---
legume
nitrogen fixation
nodules
rhizobium
roots
symbiosis