Teacher notes - Professor Barry Marshall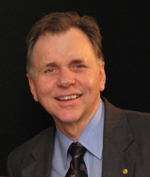 Gastroenterologist
Contents
View Professor Barry Marshall's photo gallery
You can order the DVD from the Academy for $15 (including GST and postage)
---
Professor Barry Marshall was interviewed in 2008 for the Interviews with Australian scientists series. By viewing the interviews in this series, or reading the transcripts and extracts, your students can begin to appreciate Australia's contribution to the growth of scientific knowledge.
The following summary of Marshall's career sets the context for the extract chosen for these teachers' notes. The extract relates how he infected himself with the bacterium Helicobacter pylori to help convince others of its infectiousness. Use the focus questions that accompany the extract to promote discussion among your students.
Barry Marshall was born in Kalgoorlie, Western Australia, in 1951. After a childhood of hijinks and risk-taking, he went to the University of Western and graduated with an MB BSc in 1974. He served as an intern (1975), resident medical officer (1976) and registrar in general medicine (1977–1978) at the Queen Elizabeth II Medical Centre (Sir Charles Gairdner Hospital). He then worked at Royal Perth Hospital as registrar in intensive care and general medicine (1979), neurology and geriatrics (1980), general medicine and gastroenterology (1981), and haematology (1982).

During his gastroenterology rotation in 1981 Marshall met pathologist Dr Robin Warren. Warren and Marshall (working at Freemantle Hospital) together studied curved bacteria present in the stomachs of a number of their patients suffering from ulcers and gastritis. They discovered that peptic ulcers were due to Helicobacter pylori, not stress as previously thought. In 1984 Marshall did the ultimate test by infecting himself with the bacteria, developing the symptoms of the disease and then successfully treating himself with antibiotics. Marshall and Warren spent many years trying to convince the medical establishment of the validity of their work. In 1994 the World Health Organization accepted that H. pylori is a causative factor in stomach cancer. Their work received the Nobel Prize for physiology or medicine in 2005.
From1986 to 1997 Marshall worked at the University of Virginia, doing research, teaching and adding evidence to his H. pylori theory. His work included developing a diagnostic urease breath test for H. pylori infection. He returned to Western Australia in 1997 and is employed at the University of Western Australia. He continues to see patients and manages the H. pylori research group.
In addition to the Nobel Prize, Marshall has received numerous international awards including the Keio Medical Science Prize (Keio University, Japan, 2002), the Dr AH Heineken Prize for Medicine (Amsterdam, 1998), the Kilby Prize (Dallas, 1997) and the Warren Alpert Prize (with Dr JR Warren, Harvard Medical School, 1995). He was made a Companion in the General Division of the Order of Australia in 2007 and received the Australia Centenary Medal in 2003.
Marshall was elected a Fellow of the Australian Academy of Science in 1999 and was awarded the Academy's Macfarlane Burnet Medal in 2003. He became a Fellow of the Royal Society in 1999.
---
Select activities that are most appropriate for your lesson plan or add your own. You can also encourage students to identify key issues in the preceding extract and devise their own questions or topics for discussion.
Have students use library and internet resources to investigate Helicobacter pylori. Include information on its structure, disease symptoms and treatment. Students present their findings as a brief report. Professor Marshall's Helicobacter pylori research laboratory webpage is a place to start.
Discovery School

Introduction to bacteria
Students research how bacteria move, where they live, and how they reproduce, learn how bacteria can be helpful or harmful and create a display illustrating what they learned about bacteria.

The how and why of digestive disorders
Students research one common problem of the digestive system, such as constipation, gas, lactose intolerance, or ulcers and create a brochure, similar to one found at a doctor's office, that describes the problem, its, causes, symptoms, and possible treatments.

Bacteria wanted poster project (Access Excellence, USA)
Students will research one bacterial pathogen and produce a "Wanted Poster" containing a set list of informational items. The list of moneran (bacterial) pathogens that students choose from should include Helicobacter pylori.
Microbes: Too Smart for Antibiotics? (Action Bioscience)
Students investigate how bacteria are spread, understand the threat of antibiotic-resistant bacteria, explore the benefits of microorganisms, consider pollution of the environment by antibiotics and learn methods of curbing antibiotic resistance.
Tuberculosis (Nobel Foundation)
Information on Robert Koch and Koch's postulates. Includes information and an online game in which students can learn about the processes and techniques Koch used to determine if a bacterium was the cause of tuberculosis. Reading the information before attempting the game is essential.
---
bacteria
disease
Koch's postulates
gastroenterology
endoscopy