Japan and Australia, two global leaders in science, have a rich history of working together. It is now over 40 years since the bilateral science and technology treaty between the two countries was signed. While science collaboration between Japan and Australia was well established prior to this, the treaty formalised and built on the relationship to the great benefit of both countries.
Since then, important initiatives have been established to provide opportunities for Australian and Japanese researchers of varied career levels to learn, research and innovate alongside each other. These initiatives include the Japan Society for the Promotion of Science Alumni Association in Australia, Fellowships and the HOPE meeting for Nobel Laureates. These initiatives are administered by the Australian Academy of Science on behalf of the Australian Government Department of Industry, Science and Resources.
Nobel Laureate, astrophysicist and ANU Vice Chancellor Professor Brian Schmidt has experienced the value of Australia's relationship with Japan firsthand.
"When we're trying to unlock the secrets of the universe – whether it be at the biological level, the nanoscale, or on the scale of the cosmos – they are natural partners," Professor Schmidt said.
Japanese and Australian scientific institutions each bring diverse cultural perspectives that, when combined, make our collective knowledge stronger. This is also helped by the geographic proximity of the two nations which means that time zones are similar, movement between people is simple and the economies are linked.
Professor Schmidt says collaborations that started in 1999 when he first visited Japan have continued to this day.
"We just had a big Nature paper last year that was built on that trip in 1999, interestingly enough. And it came to fruition 23 years later," he said.
Similarly, Professor James Sullivan from ANU has had a decades-long connection with Japan.
He was able to use a synchrotron in Japan for his research in atomic and molecular physics as a postdoctoral fellow 20 years ago, and now is returning to Japan to undertake a fellowship with the Tokyo University of Science. Professor Sullivan's work is now focusing on advancements in medical imaging technology, which will likely benefit both Australia and Japan in the future.
"Collaboration is critical. You can't just look up a textbook to tell you what to do when you're working right at the cutting edge of science and technology. So being able to discuss those ideas with other experienced people, use their experience with yours to develop new ideas is absolutely the key to doing excellent research," Professor Sullivan said.
Dr Graziella Caprarelli is the inaugural President of the Japan Society for the Promotion of Science Alumni Association in Australia. She was born in Italy but moved to Japan for a postdoctoral fellowship to study volcanic activity for five years, before then moving to Australia. She agrees that Japan and Australia are perfect partners for scientific research.
"Australians are highly productive. They have a great record of high-impact research in all of the areas of science," she said.
"Japan is certainly a world power in scientific knowledge. It has great technology, great equipment, and so it's basically a great marriage."
HOPE for future collaborations
As Professor Schmidt, Professor Sullivan and Dr Caprarelli's stories demonstrate, networks forged as a young scientist can result in connections that continue across a whole career.
Each year the Japanese Society for Promotion of Science hosts the HOPE meeting with Nobel Laureates and around 100 outstanding graduate students and young researchers. Participants are specially selected from countries around the Asia-Pacific region.
"The HOPE meeting was an excellent platform to meet and engage in scientific discussions with Nobel laureates and brilliant young researchers from diverse fields of science," one of the Australian participants, Dr Harini Hapuarachchi from RMIT University, said.
"I was truly inspired by the lectures and mentoring sessions by the Nobel laureates, where each story highlighted the importance of perseverance and collaboration in endeavours for the advancement of science."
The title 'HOPE' signifies the promise held for young scientists and optimism for a bright future for science and technology in the Asia-Pacific and Africa region. HOPE meetings give opportunities for excellent doctoral students and young researchers in the areas of physics, chemistry, physiology or medicine and related fields to connect and build relationships and gain valuable advice that will strengthen their careers. The 13th HOPE Meeting with Nobel Laureates was originally scheduled for March 2021 in Yokohama, Japan. Due to the COVID-19 pandemic it was held virtually from 7 to 11 March 2022.
Another participant from Australia, Dr Sharman Tan Tanny from the University of Melbourne, found connecting with her international peers in a collaborative project a truly valuable part of the online meeting. She noted that the diversity of team members created an inspiring and creative environment for problem-solving.
"It truly felt like a meeting of great minds, and what we were able to come up with was more than any individual in the team could have done alone, given the interdisciplinary nature of the team and the presentation," Dr Tan Tanny said.
"Further, there were lots of candid and personal moments, as we shared about personal anecdotes throughout, such as aspects of our country or culture, took a team photo, and extended the invitation to each other, to host anyone of us should the opportunity arise in the future to meet in person … we had come a long way from day one."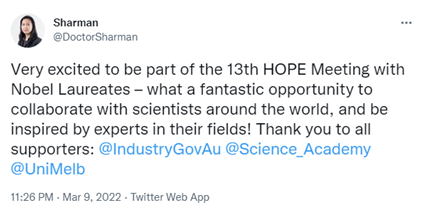 Dr Joe Kaczmarsk from the Australian National University, the third of Australia's participants at the 13th Japan HOPE meeting, agreed that the opportunities to learn and collaborate with others were a highlight.
"The feedback I got from Nobel Laureates and peers when discussing my research was encouraging and reminded me that people from a range of backgrounds are interested in what we are working on," Dr Kaczmarsk said.
"One of the most memorable sessions for me was our small group discussion with Sir Tim Hunt, who was awarded the Nobel Prize in Physiology or Medicine in 2001 for his work on protein molecules that control the division of cells," he said.
"Tim was calling in from his living room in his home in Japan and he gave us lots of advice and anecdotes about building a life in science … It was a very nice session and one that I will remember for a long time – it's not every day that you get to talk to a Nobel Laureate about life and science!"
Similarly, Dr Hapuarachchi was moved by the generosity and wisdom shared by the Nobel laureates, and said, "I will always cherish these memories and I believe that the lessons shared by the laureates will inspire me throughout my scientific career."
Thanks to the long-standing collaboration between Japan and Australia in science and technology, our scientists are able to share resources, cultures and knowledge. This collaboration leads to better science and a brighter future for all.
Find out more:
Japan HOPE meeting with Nobel Laureates
Japan Society for the Promotion of Science Alumni Association in Australia
Increasing international collaboration on science and research
Australia and Japan: 40 years of international collaboration on science, technology and innovation
Partnering with Australia on innovation, science and research