National Science Week shows that science is for everyone
August 29, 2019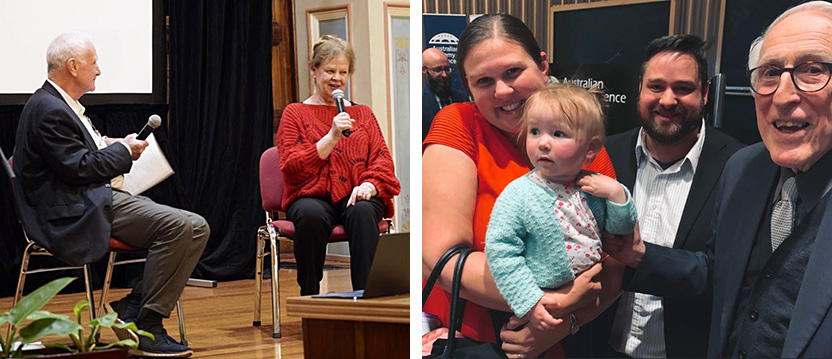 What do patting a Thylacene, life-changing science, bees' eyes and a Spinosaurus have in common? They were all part of the Academy's celebration of National Science Week, which engaged thousands of people across the country at events and online.
For the first time the Academy joined forces with BeakerStreet@TMAG, a pop-up science bar in Hobart which merged science with music, food and drinks, art and entertainment. Four talks featuring Academy Fellows were held on Friday 16 August at the Hobart Town Hall as part of the Beaker Street festivities.
Academy Fellows Professor Martina Stenzel, Dr Steve Rintoul, Professor Jenny Graves and Professor Mike Archer each spoke in conversation with Fellow Professor Robyn Williams or Natasha Mitchell of the ABC. The scientists fascinated their audiences with stories of their work: the many uses for the elements of the periodic table, resurrecting extinct species, genes that determine sex in animals, and the warming of the Southern Ocean. Almost 400 people attended these engaging talks.
The Academy hosted a Canberra Speaker Series event highlighting the science of the cochlear implant also during National Science Week. Speakers and Academy Fellows Professor Graeme Clark, developer of the cochlear implant, and Professor Jennie Brand-Miller, renowned food scientist whose life was changed by cochlear implants, told the story of how this science changes lives.
School students took up the challenge and got creative with the periodic table and the elements in the scienceXart competition hosted by the Academy's National Committee for Chemistry, with the winners experiencing a 'behind the science' tour of Canberra. Year 2 student Makan Wang even created a dinosaur using sulfur, phosphorus, indium, oxygen, gold and ruthenium—a Spinosaurus!
To further shine a light on scientific excellence, the Academy profiled three exceptional Australian scientists and Academy Fellows on the National Science Week blog: Professor Kerrie Mengersen, Professor Toby Walsh and Professor Mandyam Veerambudi Srinivasan. Read about their research and achievements
The Academy's Shine Dome also played host to InterACTive, a family-friendly afternoon of captivating science-related talks, performances, workshops, exhibits and discussions. Over 3000 people attended this weekend event in Canberra, engaging in topics from drones to the Moon and exploring the heritage-listed building.
National Science Week ran from 10–18 August and involved more than 1 million people in 2000 events across Australia. More about National Science Week