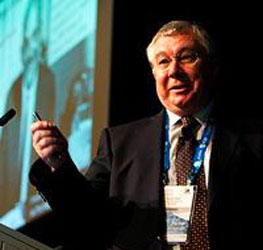 Geoffrey Frew Fellowship
Status
The call for nominations is currently closed
The Geoffrey Frew Fellowship is not open for public nomination. The relevant Academy's National Committees recommend the Frew Fellows to the Council of the Academy.
Details
The Geoffrey Frew Fellowship was initiated in 1970 through a personal donation from Mr G S V Frew, Chair of Varian Techtron Pty Ltd. Fellowships are awarded to distinguished overseas scientists to participate in the Australian Spectroscopy Conferences and to visit scientific centres in Australia. Conferences are held biennially. Since 2015 the Australian and New Zealand Optical Society (formerly the Australian Optical Society) has generously matched the Academy's funding support to this Fellowship.
Fellowships are normally expected to have been undertaken within two years from the date of award. Awardees may apply for extensions due to extenuating circumstances or to apply for variations to remove or adapt to barriers encountered to their planned travel.
Past awardees
2023—J Vukovic
2021—A Bleszynski Jayich
2019—D Strickland
2017—A Polman
2015—U Keller
2013—R Blatt
2011—J Ye
2009—R Grimm
2005—D J Wineland
2003—W E Moerner
2001—M Kasevich
1998—C E Wieman
1996—J C Polanyi
1993—C Cohen-Tannoudji
1991—M Kasha
1989—R N Zare
1987—J L Hall
1985—J H van der Waals
1982—G Herzberg
1980—B P Stoicheff
1976—G Porter
1973—A L Schawlow
1971—G R Harrison
© 2023 Australian Academy of Science
Top