Advancing data-intensive research in Australia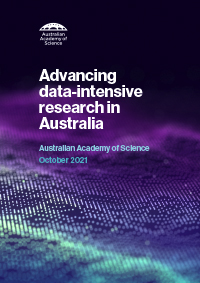 The report, Advancing data-intensive research in Australia explores opportunities and challenges associated with data-intensive research and provides recommendations to improve Australia's research data ecosystem.
The project, previously titled 'Big data in Australian research: Issues, challenges and opportunities', was informed by the contributions of a broad range of stakeholders across disciplines and connecting with international big data initiatives.
The report presents data practices, challenges and strategic developments and identifies technology, infrastructure, training and collaboration priorities for the future. The report's recommendations provide actions to enable Australian research to exploit opportunities and overcome challenges arising from the revolution in open and big data technologies, and from developments in data science and machine learning.
The project was funded by the Australian Research Council under the 2017 Learned Academies Special Projects scheme.

The project's Expert Working Group was jointly led by Professor Michael Barber AO FAA FTSE and Professor Jane Elith FAA, together with the Academy's National Committee for Data in Science.
The report was launched at the eResearch Australasia conference on 11 October 2021.