Geography: Shaping Australia's Future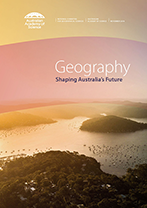 Geography: Shaping Australia's future was prepared by the National Committee for Geographical Sciences and presents the state of play of geography as a discipline in Australia. It provides a unified vision for Australian geography over the next decade.
The plan offers a framework for engaging research, teaching and industry that aligns strategically with contemporary social, economic and environmental challenges of our region.
Download the decadal plan (PDF, 4.6MB)
Download decadal plan summary flyer (PDF, 246KB)