About the workshop
The electrical energy industries in Australia and China rely on measurement science and technology to solve current and emerging challenges. These needs are only expected to increase in the future.
This workshop will explore these challenges, showcase present scientific achievements, and formulate a roadmap of future requirements for measurement research in electrical energy security. It is anticipated that the roadmap will inform future research project opportunities to address industry needs.
The workshop is fully funded by the governments of Australia (via the Australia–China Science and Research Fund (ACSRF)) and China. As such there is no registration fee.
Main objectives
The workshop aims to:
share measurement strategies on electrical energy security
lay the foundation for a roadmap of measurement capabilities that will enable the security of electricity supply for the 21st century
facilitate cross-sector discussions between senior leaders in universities, research institutions, government research agencies and electricity supply utilities and manufacturers
allow representatives from Australia and China to share experiences and insights
initiate new and strengthen existing collaborations
develop a foundation for future collaboration, including opportunities for funding.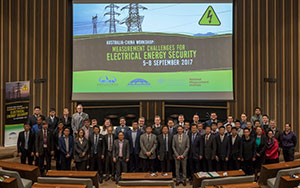 Outcomes from the workshop
The Australia-China Workshop on Measurement Challenges for Electrical Energy Security was opened in Canberra by Australia's Chief Scientist, Dr Alan Finkel, on 5 September 2017. The workshop was funded under the Australia-China Science and Research Fund and jointly organised by the National Measurement Institute of Australia (NMIA), the National Institute of Metrology (NIM), China and the Australian Academy of Science.
More than 50 experts from research, academia and industry in Australia and China, and one expert from Finland, were involved in this event. The workshop aimed to identify and discuss the challenges for measurement science and technology in enabling reliable, high-quality, efficient and sustainable supply of electrical energy and to strengthen the cooperative research links needed to respond. Significant steps towards setting out a roadmap for future measurement capabilities have been taken and specific research activities, with the aim of implementing the plan, have been identified.
Measurement challenges for electrical energy security were explored in four themed expert breakout groups: power quality, measurement of power quantities in electrical grids, energy storage, and data security. Each group proposed one or more collaboration project/s addressing key issues faced by the electricity grids of Australia and China.
National Measurement Institute, 36 Bradfield Road New South Wales