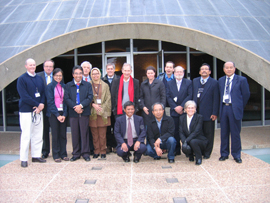 The Academy of Science and the Indonesian Ministry of Research and Technology (RISTEK), on behalf of the Australian Government Department of Innovation, Industry, Science and Research organised the Australia-Indonesia Agriculture and Food Security Workshop.
The Indonesian delegation was led by Dr Listyani Wijayanti, Advisor to the Minister of Research and Technology for Food and Health Technology. Professor Jim Fox, from the Resource Management in Asia-Pacific Program (RMAP) at the Australian National University and an Indonesian expert, was the Australian Co-convenor and led a delegation of ten prominent scientists in the fields of agriculture and food security.
The workshop participants explored collaborative opportunities during plenary discussions and presentations in the areas of:
rice
sugarcane
beef cattle
soybeans
maize
sorghum
The two-day workshop was followed by a day of site visits for the Indonesian delegation at the University of Sydney's Plant Breeding Institute.
Download program (PDF, 320 KB)
Shine Dome,Gordon Street Australian Capital Territory