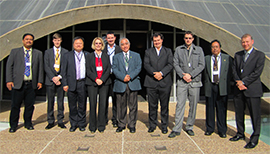 The Academy received funding from the Australia-Malaysia Institute of the Department of Foreign Affairs and Trade (DFAT) for an Australia-Malaysia Green Growth Think Tank held at the Shine Dome on 15 May, with site visits in Canberra and Sydney on 16 and 17 May 2012.
Three Malaysian researchers selected by the Malaysian Academy of Sciences attended the meeting: Associate Professor Ahmad Fariz and Professor Abdul Hadi from the Institute for Environment and Development (LESTARI), Universiti Kebangsaan Malaysia, and Dato' Ghazali, Executive Chairman of Nusantara Technologies. The researchers were interested to know how Australia is implementing green growth policies in the areas of science and innovation, business and industry as well as environmental economics and skills training. The Australian organisations represented included the Department of Industry, Innovation, Science, Research and Tertiary Education; Department of Resources, Energy and Tourism; CSIRO; the Cooperative Research Centre for Greenhouse Gas Technologies (CO2CRC); the Australian National University; and Dyesol Technologies.
The think tank showcased excellence and encouraged further research exchanges between Australia and Malaysia.
Download program (PDF, 127 KB)
Shine Dome,Gordon Street Australian Capital Territory