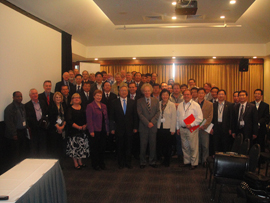 The Australian Academy of Science, in conjunction with the Australian Academy of Technological Sciences and Engineering (ATSE) and the Chinese Academy of Sciences (CAS) organised the Seventh Annual Australia-China Symposium on Agriculture and Food Security Relating to Health. The event was arranged on behalf of the Australian Government Department of Innovation, Industry, Science and Research (DIISR). The venue for the Symposium was the Novotel Barossa Valley Resort in South Australia.
The Symposium comprised 50 Australian and Chinese researchers and was jointly opened by the three Academy Presidents, Professor Yongxiang Lu (CAS), Professor Robin Batterham (ATSE) and Professor Suzanne Cory from the Academy of Science.
The workshop participants explored collaborative opportunities during plenary discussions and presentations in three concurrent workshops:
Climate change impacts on food security;
Food safety, food nutrition and human health; and
Agricultural productivity, biosecurity and future demand for food.
The two-day symposium was followed by a day of site visits for the Chinese delegation at the University of Adelaide's Waite Campus and South Australian Research and Development Institute.
Download program and abstracts (PDF, 1.08 MB)
Barossa Valley, South Australia