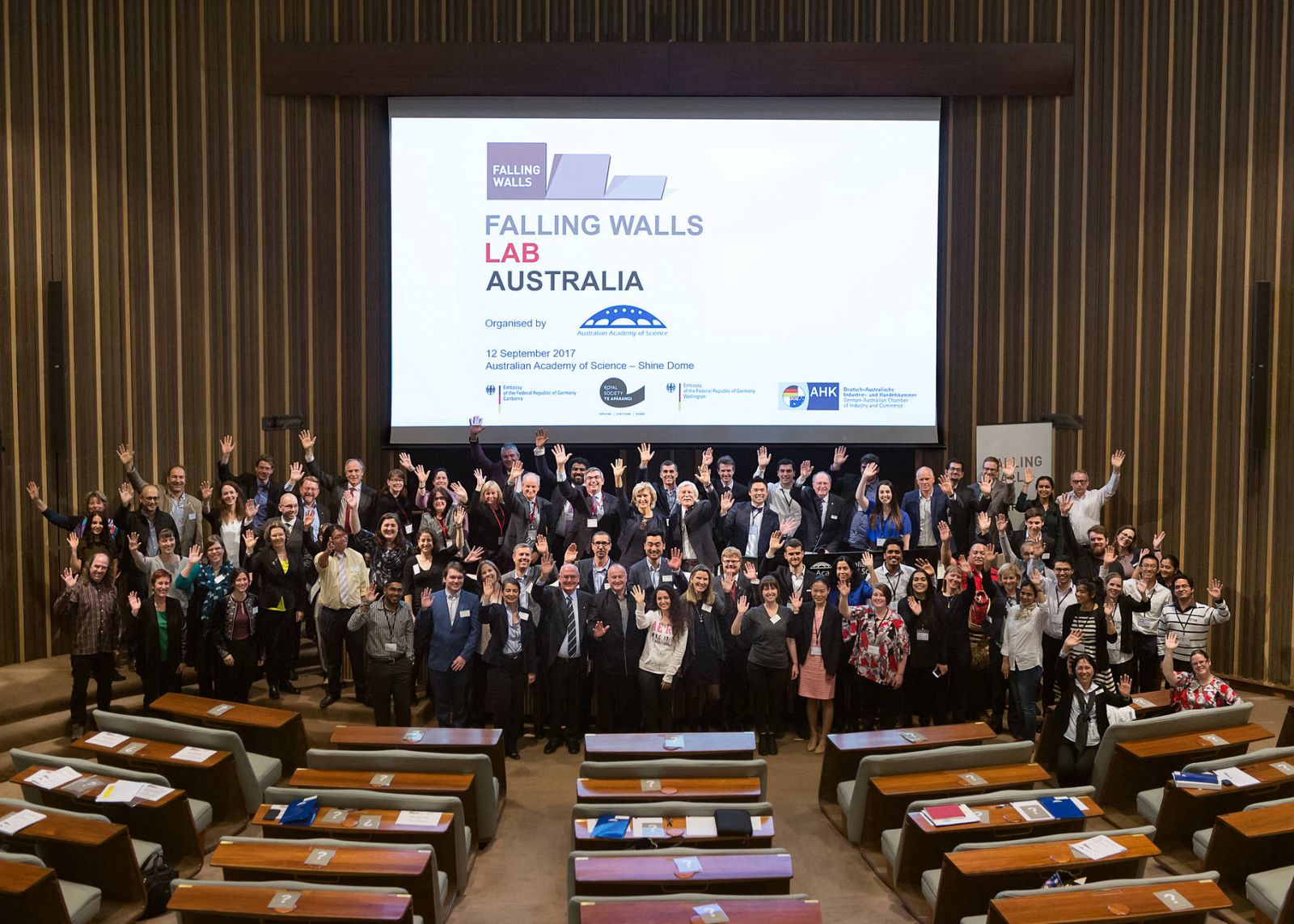 About the Lab
The third Falling Walls Lab Australia will take place on 11 September 2018 at the Shine Dome in Canberra, hosted by the Australian Academy of Science in partnership with the Embassy of Germany in Canberra and the German–Australian Chamber for Industry and Commerce.
Falling Walls Labs take place globally throughout the year, in over 60 countries. The winners of each international Falling Walls Lab qualify for the Falling Walls Lab Finale in Berlin, which is held every year on 8 November.
Falling Walls Lab Australia will be an inspiring innovation forum for 20 young Australian researchers, social scientists, academics, entrepreneurs and professionals across all disciplines. The Lab provides a platform for each participant to present their research work, business model, innovative project, social initiative or idea in just 3 minutes, on stage in front of peers and a distinguished audience from academia and business.
The panel of eminent judges from academia, business, government and finance will select the winner of the Lab. The distinguished jury will be chaired by Dr Alan Finkel AO FAA FTSE, Australia's Chief Scientist.
Be part of the audience
This event is open to anyone, and entry is free. However, we suggest you book early as seats are limited and will fill quickly. Please book your seat by Friday 31 August 2018.
The speakers
Serena Ekman, University of Queensland
Qilin Wang, Griffith University
Samantha Wade, University of Wollongong
Liam Hanlon, Australian National University
Kate Riggall, University of South Australia
Jason Whitfield, University of Queensland/ CSIRO
Shruti Nirantar, RMIT
Emilia De la Sienra, University of Technology Sydney
Michael Eze, Macquarie University
Hayley Teasdale, University of Canberra
Eric Höfgen, University of Melbourne
Weirong Ge, University of Sydney
Sulthan Abdul Haroon Rashid, RMIT
Leanda Mason, Curtin University
Brett Murray, Ordervous
Noushin Nasiri, University of Technology Sydney
Ziming Ye, University of Queensland
Sugarniya Subramaniam, Queensland University of Technology
Adam Sutton, University of South Australia
Avanthi Badulla Liyanage, Monash University
The Shine Dome,15 Gordon Street Australian Capital Territory